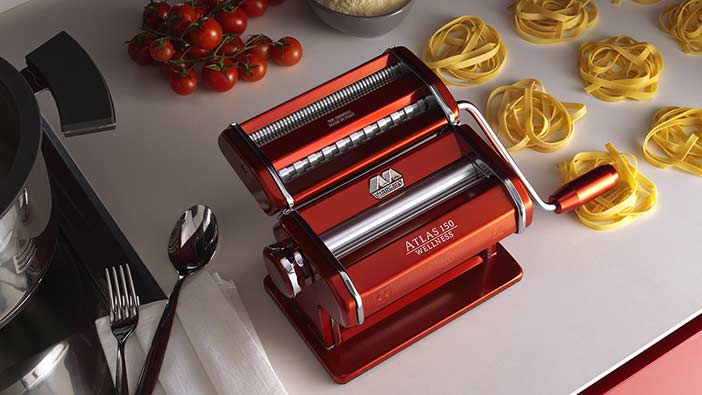 There are many machines you can choose to make homemade pasta. When picking the best pasta maker for your needs, there are 7 great models out there that I'll gladly recommend at the moment.
Whether you prefer electric or manual pasta makers, read on for my personal recommendations and a curated list of the 7 best pasta makers.
Looking for the best manual handrolling pasta machine? The Marcato Atlas Wellness 150 (Amazon) is a great handroller and allows you to make pasta the same way that Italian artisans have been doing for centuries. See how the Marcato stacks up against the rest in the comparison table below.
If you are looking for the best dedicated electric pasta maker then there is no better machine than the all-electric Philips Pasta Maker (Amazon). This amazing machine can make fresh pasta in under 20 minutes and has been my favorite choice for an electric model since it came out! Read my full Philips Pasta Maker review.
The 7 best pasta makers & rollers on the market
The following 7 pasta makers are all great machines, and you can't really go wrong with any of them. It's really a personal choice as to which would suit you best, based on the type of pasta you want to make, whether to go manual or electric or whether to add on to an existing machine. Ultimately, you should choose the pasta maker that matches your preferences in the kitchen and suits your lifestyle the best. This top 7 list includes both electric and manual machines:
---
1. Best manual pasta maker for traditional pasta
In my opinion the Marcato Atlas is consistently the best manual pasta maker on the market. The Atlas comes with two attachments and can make longer pasta such as spaghetti, fettuccine and lasagne sheets, right out of the box. This machine is high quality, lovingly made in Italy and is even available in a variety of colors.
---
2. Best electric pasta maker for home use
The Philips Pasta maker is the best pick if you want to make homemade pasta on a regular basis and are looking for a fully automatic machine. It will make fresh pasta in about 20 minutes. This fantastic machine mixes & kneads for you and will automatically extrude the pasta. It will even do noodles as well!
---
3.Best choice roller for KitchenAid owners
This is the best buy if you already own a KitchenAid stand mixer (or a great excuse to buy one!) – so long as you don't mind mixing and kneading the pasta dough yourself. These attachments make spaghetti, fettuccine and lasagna using high quality motorized rollers that do most of the work for you. In many ways these are a great middle-ground between traditional pasta making, with a touch of modern power. Note: I'm currently recommending the very high quality KitchenAid compatible pasta roller set from Nevku, as the original KitchenAid brand set is not available at the moment. These are a fantastic alternative, just as good as the KitchenAid version for a lower price. Click the button below to have a look.
---
4. Best traditional pasta maker with electric motor
This is the electric motor attachment for the Marcato Atlas Wellness. Easy and fast to use as it means that both hands are free, it's a great addition to the Mercato when you find yourself making pasta more frequently.
---
5. Best pick for a more traditional roller
A direct competitor to the Marcato, the Imperia 150 is also made in Italy and is a solid choice thanks to its high build quality and robust, reliable design. It's a tiny bit more expensive than the Marcato, which is why I recommend the Marcato first. However, the Imperia is heavier and looks great with the wooden handle so if you prefer the look of this one, you won't be disappointed! Spaghetti, fettuccine and lasagna roller attachments are included in the box.
---
6. Best choice to make ravioli with a KitchenAid
KitchenAid Ravioli Maker
If you own a KitchenAid, you're in luck: it's probably the only electric ravioli maker that actually works. Rather expensive, so I'll link you to the renewed, cheaper version on Amazon. As a curator, cook and consumer I find the retail version to be a bit overpriced. Refer to my guide on the best ravioli maker for my personal recommendations.
---
7. Best budget pasta extruder for daily use at home
This is a great option for smaller batches of pasta, as this compact electric pasta machine requires only half the workspace of its big brother. This machine makes great pasta, although a little bit thicker than with a traditional manual roller. Extra attachments are available.
---
Pasta maker reviews – my personal recommendations
In every short review below I will write down what type of use each pasta maker is recommended for. If you want more in depth information about these pasta makers, feel free to read every full review that comes with it.
If you already own a pasta maker and you're looking for extra equipment, refer to my list of essential pasta tools.
---
Best choice manual roller and cutter
Want to bring an authentic Italian pasta maker into your kitchen? Then pick the Marcato Atlas 150. The rollers and cutters are actually quite special for a pasta maker, as they are patented by Marcato. One of the best machines on the market, but it's so much more than just a simple spaghetti machine.
The Atlas 150 pasta makers are available in 9 different colors, ranging from blue to pink. My personal favorite is the classic silver body, but it depends on the style of your kitchen.
With the standard roller and cutter set that comes with it, you will be making your own spaghetti, tagliolini, fettuccine and perfect flat lasagna sheets in no time. The adjustment knob makes it easy to switch the thickness of your pasta while rolling it thin – you can choose from 0.3mm 2.5mm with 8 different settings available in total.
There are plenty of optional additional attachments that will enable you make various types of pasta. Or if you're making pasta a lot or you can even get the official Mercato Atlas 150 motor to fully motorize the process for you.
In summary, if you are in the market for a classic manual pasta maker and you are set on buying a high quality pasta maker, the Marcato Atlas 150 Wellness (Amazon) is definitely the right pick for you. The Marcato is a great choice if you're planning on regularly making pasta a few times a month – or way more often of course!
Short Review: The real Italian classic. My personal recommendation if you want to start making traditional pasta at home. Owning this machine, you'll be making any type of pasta: ravioli, garganelli, spaghetti, reginette, anything!

Read my full review: Marcato Atlas 150 review
---
Best choice for an electric pasta extruder
If you are in the market for a pasta extruder rather than a classic pasta roller, the Philips Pasta Maker is definitely the best choice. Easy to use, even the mixing & kneading are done for you – it's quite simply the fastest way to fresh pasta!
Making your own pasta is so easy with the fully electric Philips Pasta Maker. This all-in-one pasta machine is one of the best electric pasta extruders available on the market. It will mix the dough for you and with minimum effort you will have fresh pasta ready to cook in under 15 minutes.
The Philips extruder comes with a set of 4 shaping discs for spaghetti, fettuccine, penne and lasagna sheets. Additional attachments for the Philips are sold separately in packs of two – my favorite is are the shaping discs for tagliatelle and pappardelle. Together with the cleaning tool for the shaping discs, you get everything you'll need in the box.
It's worth mentioning that, in comparison with other electric pasta extruders, the Philips Pasta Maker is relatively quiet in operation. Older electric pasta extruders tend to make a lot of noise when mixing and even when extruding the pasta. Wheras the sound the Philips makes really isn't much of a nuisance at all.
Short Review: The Philips Pasta Maker is the best machine in its price class, has great build quality and is easy to clean. With it you can make homemade batches of pasta in under 15 minutes. It's simply the best consumer electric pasta maker available right now.

Read my full review: Philips Pasta Maker review
---
Best pasta roller and cutters for KitchenAid
If you already own a KitchenAid stand mixer (or are looking for an excuse to buy one!) then this pasta roller and cutter attachment set makes a lot of sense. The set gives you high quality motorized pasta machine capabilities for a lower cost compared with buying a dedicated pasta machine – you're simply using the motor from the KitchenAid mixer that you already have. This approach saves on space too!
The KitchenAid Pasta Attachment Set comes with three different attachments: a pasta roller, and two great pasta cutters for spaghetti and fettuccine. You can easily swap the attachments without any hassle, which is a big plus. The stand mixer is of course motorized, and so are your pasta roller and cutters. You'll feed the pasta dough through the rollers and cutters and the KitchenAid will do most of the work for you. Super, as both of your hands are now free!
The KitchenAid pasta attachments are of good quality , as you'd expect from KitchenAid. I really love using these attachments. Being fully automated allows me to use both of my hands to feed the pasta which makes everything so much easier. The dough just runs through the rollers at a steady and smooth pace, for more consistent results than with a manual rolling machine.
Short Review: These KitchenAid pasta attachments are a perfect pick if you own a KitchenAid stand mixer and you're planning on making pasta regularly. The whole pasta making process is automated, as you can use your KitchenAid to knead the dough as well! The higher speed setting options of this set (versus a dedicated machine) is another big plus, enabling you to spend significantly less time rolling the pasta thin.

Read my full review: KitchenAid Pasta Attachments
---
Best traditional electric pasta roller
Make pasta with both of your hands free. The Marcato motor attachment lets you use your machine with either hand crank or motor. Speed up the process with this motor, but it does make some noise.
This set contains both the Marcato 150, the motor, a table clamp and the standard hand crank. If you already have a Marcato Atlas 150 then the motor can also be purchased separately. With the help of the motorized attachment, you're able to use both hands to guide the pasta through the machine.
When using the motor attachment, the pasta maker itself doesn't have to be attached to a table. You will however need a power source nearby, as the motor doesn't run on a battery.
This motorized attachment will provide you with the perfect speed to roll your dough through the rollers. The build quality is good, but do note that the exterior is made of plastic. Mine still works perfectly fine after several years of regular use, which I expect to be normal with proper care.
If you want to conveniently make pasta, a few times a week or multiple times a month, the Marcato Atlas Electric Pasta Machine (Amazon) is the right pick for you. It offers the best of both worlds, manual and electric.
Short Review: Not sure if you need the motor attachment? Get the standard version of the Marcato first and you can always buy the motor attachment later. The motor is great if you're tired of hand cranking and if you want to be able to use both of your hands on the pasta. It's a great addition to an otherwise very traditional and manual machine.

Read my full review: Marcato 150 Motor Attachment review
---
One of the best manual pasta makers out there
The Imperia 150 Pasta Maker (Amazon) is another Italian pasta machine, sold all over the world including in the US. Out of the box you'll quickly be making lasagne sheets, spaghetti and fettuccine. There are some extra attachments available for the Imperia, but less than Marcato. It's a great buy, but I recommend getting the Marcato if they're priced the same.
The Imperia features a classic exterior. The wooden pasta hand crank is definitely a nice touch that the Marcato is missing out on. The Imperia comes with an attachment to make spaghetti, fettuccine and lasagna sheets. With a ravioli cutting tool (not included) you can also make ravioli.
With additional attachments that are available for purchase you can also make different types of pasta such as angel hair, or different kinds of spaghetti. Marcato has way more attachments though, so keep that in mind when deciding between the two. Also, having owned them both I think that the overall build quality of the Marcato pasta makers is higher than Imperia – this is evident when looking at Amazon reviews.
Imperia has chosen to implement the standard 6 inch rollers, which mean that your lasagna rolls will have a maximum width of 6 inches (or 150mm, hence the name of the pasta maker). Of course, the Imperia also features a knob that will allow you to choose the thickness of the pasta sheets that you are rolling.
Short Review: Just like the Marcato, the Imperia is a perfect fit for people that are planning on making pasta a few times a month. When you can pick, I'd say the Marcato is the better machine of the two, especially now that they're in the same price range.

Read my full review: Imperia 150 review
Pasta maker brands
Marcato, Imperia, KitchenAid and Philips are currently the best brands that make high quality pasta makers. If you're looking for a good manual pasta roller, go for either the Marcato 150, Marcato 180 or the Imperia 150. Both brands have a good track record and their machines are produced in Italy – not in China like many cheap pasta makers.
If you already own a KitchenAid stand mixer, then I definitely recommend those attachements instead. The 3-piece pasta attachment set is one of my favorite purchases ever, really! KitchenAid is a trusted brand and with the recent price drops on their pasta attachments, it's hard to say no.
If you really want an extruder for an electric pasta machine, the Philips branded pasta machines are great – both the original automatic pasta machine and the Compact version. The brand Lello used to produce OK machines, but they've been run into the ground when Philips released their pasta maker, which is a far superior machine.
What is a pasta maker?
A pasta maker is a manual or electric machine that produces fresh pasta. There are multiple types of pasta makers available, which makes choosing the right machine a bit harder. This buyer's guide will explain the important features of a pasta maker you should focus on.
Manual pasta rollers and cutters
A manual pasta roller is simple in practice, but the machines are quite intricate when you take a closer look. The most classic design is just the pasta roller, but modern pasta makers such as the Marcato 150 and the Imperia 150 have extra attachments available.
There are four different parts of the pasta maker that are most important: the rollers (1 and the cutters (2). The hand crank (3) to rotate both the rollers and cutters. Equally as important is the regulating knob (4) to decide the distance between the roller and the thickness of your pasta sheet.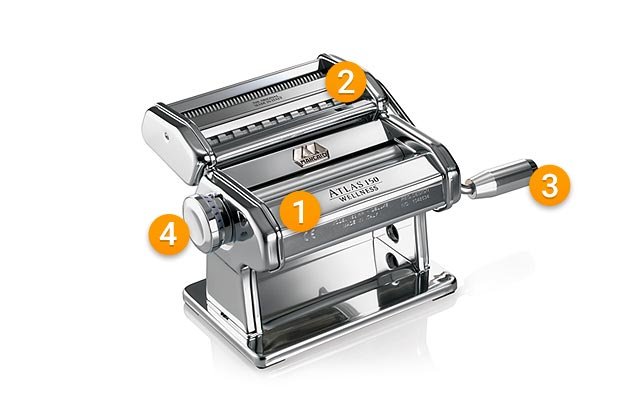 The types of pasta that can typically be made with a classic pasta maker are the longer types of pasta, such as spaghetti, fettuccine, pappardelle, angel hair and lasagna sheets. More adventurous types of pasta such as ravioli can also be made with the help of a ravioli stamp or a pasta cutter.
Manual pasta machines are perfect for those that plan on making pasta a few times a month, as it requires a bit more work than using an electric pasta maker. Of course, you can also use a manual pasta maker if you plan on making pasta more often; this will just require a bit more work and time.
Electric pasta makers & extruders
Looking for a more modern take? There are some high quality electric pasta makers out there. One of the best selling models is the Philips Pasta Maker, an electric extruder. Instead of rolling the pasta, it extrudes and pushes the pasta through a shaping disc (1).
These electric pasta machines are a great solution if you've got little time to prep dinner, but still want homemade pasta. They mix and knead the dough as well, making it the easiest home solution for fresh pasta.
Refer to my guide on buying the best electric pasta maker and roller.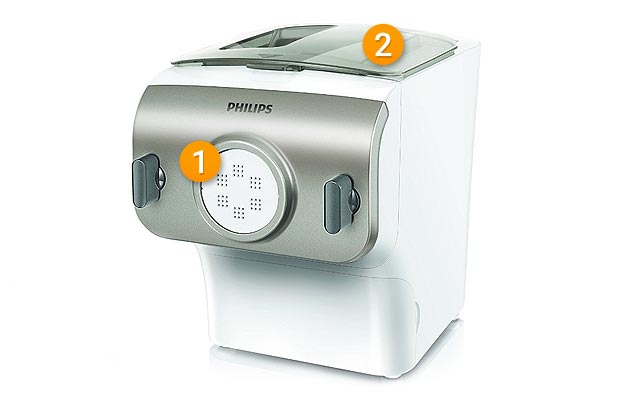 Buyers guide – which pasta maker should you pick?
Keeping it simple, alright. Go for either the Imperia or Marcato 150 if you want a manual machine – at the end of the day the Marcato is the best choice.
ForWhile a certain pasta maker can be the best in comparison of other pasta makers, this doesn't always qualify it as the best pasta maker for you as well. Maybe you are planning on making pasta a few times a week, and automating this process as much as possible will be quite possibly be the best solution in that case. Or you are planning on making pasta a few times a month, buying a classic pasta machine in this case sounds like a better plan.
It is my job to make sure that you pick the pasta maker that fits your needs the most. Whether this isn't my favorite type of pasta maker doesn't play a role in this case. The pasta makers that I recommend are all high quality pasta machines, and I make it very clear when I do not recommend a certain pasta maker.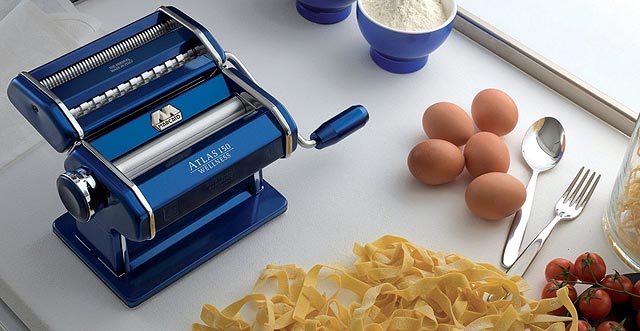 In the past I reviewed cheap pasta makers as well, but I always ended up not recommending any of these machines. The quality of the pasta makers were low, they wouldn't last me very long and there were always little annoyances.
All the pasta makers in this guide that I've reviewed I would recommend to my friends and family. The quality shouldn't be the issue. Most people will get the most joy out of more classic pasta maker. With the pasta makers that I have currently reviewed on FabulousPastaI am sure that they are of a high standard. By recommending these high quality pasta makers I can be confident that my visitors are buying themselves a pasta machine that they will still be using after 10 years.
Frequently Asked Questions about Pasta Makers
There are quite a few questions that I get asked more often that I had expected when I had written the initial set-up for my homepage. These questions I will answer in the paragraph below.
Should I buy a manual pasta maker or a pasta extruder?
I recommend buying a manual pasta maker if you plan on making pasta a few times a month. A pasta extruder is a better solution if you are planning on making pasta more regular than that. Manual pasta makers cost a lot less than a decent extruder, such as the Lello or Philips. If you aren't sure if you will make pasta that often, start with a manual pasta maker. You can always sell the manual pasta maker later and buy a pasta extruder, or give it away as a gift.
How long will a pasta maker last with good care?
Typically a pasta maker will last quite a long time, ranging from a few years to a few decennia. As long as you clean the machine every time that you have made a batch of pasta, the decennia part should count for you as well. Manual pasta makers have very little mechanical parts, and the high class pasta maker brands such as Marcato and CucinaPro aren't flimsy like the cheaper brands out there.
How do I clean my pasta maker?
Cleaning your machine should is a task that shouldn't take too much effort if you do it right. Manual pasta makers can be cleaned by simply wiping off the remaining flour and dough particles, whereas pasta extruders can be cleaned by washing the machine and removing the remaining dough. A very important side note: do not use water on your stainless steel pasta maker, as can permanently ruin your pasta maker and leave ugly black marks on the design itself.
How much does a pasta maker typically cost?
The prices of pasta makers range from very cheap to a bit more pricey. You can already buy a manual pasta roller for around $30,-. However, these pasta makers are of very low quality and I do not recommend them since they don't have a long product life. If you pay a little more, you can already get yourself a major brand pasta machine for around $50,-.
What is the warranty of a pasta maker?
The standard warranty time is typically a year long. However, the Marcato offers a standard two year warranty and has an extended warranty of an extra eight years. This total of ten years is exceptional and I haven't found another brand that offers the same warranty deal. As I have mentioned earlier, with good care your pasta maker will last long enough for you not to worry about the longevity of the warranty.
Are pasta makers easy to use?
This is the question that I get asked most often, and the answer I have ready is quite direct: yes, it is easy to operate a pasta maker and to make homemade pasta. The most important part is knowing how to make the perfect pasta dough so you won't run into problems with too dry or too sticky dough. There are a lot of resources online about making pasta dough, and I have made a short list of recipes that I think explain the process perfectly. You can find the list here.
What types of pasta will I be able to make?
This question cannot be answered for every single pasta machine in a single answer. Most machines come with a set of rollers and cutters that will let you make certain types of pasta. Machines like the Marcato and the CucinaPro come with both a roller for lasagna sheets, and cutters for fettuccine and spaghetti. As long as you can make lasagna sheets, you will be able to create a whole variety of pasta with a simple pasta cutting tool. Think about various ravioli recipes, farfalle, and a lot more.
What do I need besides the machine?
You don't really -need- anything to make delicious homemade pasta. However, there are quite a few accessoires that can help you when making pasta yourself. I have compiled a list of pasta makers accessoires, and these little gadgets can help you experiment and make your pasta making life easier.
What are a few simple but fun techniques when making pasta?
There are quite a few tricks that you can use to make your pasta endeavours even more fun. Using a simple pasta cutter or ravioli stamp you can make a lot of different shapes. You can also experiment with different types of colored pasta. With a few simple changes to the pasta dough, you can make black, purple, green and a whole lot more of different types of colored pasta. A few examples are using squid ink for black pasta, tomato paste for red and spinach for green.
What is the best type of pasta flour for my pasta maker?
While it isn't a problem at all to use standard all-purpose flour that can be bought at every supermarket, there definitely are better options when choosing flour. The type of flour that I prefer when I use any kind of pasta maker is type "00" flour. This flour will give your homemade pasta a more silky texture and will give your pasta a better taste, not only in my opinion but also that of professional chefs. I have written an extensive guide about the best flour for pasta, which will answer most questions you might have about pasta flour.
What are some delicious pasta recipes?
We are on the internet, there are a lot of different pasta recipes out there. If you are getting started and want a versatile list of some pasta recipes, you should check out this list of 17 pasta recipes from SeriousEats. If you prefer having a collection of cooking books, I recommend picking up Making Artisan Pasta by Aliza Green for a whole book dedicated to pasta recipes for your pasta machine. Want more allround knowledge about the Italian cuisine, I absolutely love the Silver Spoon Cookbook, which hosts more than 2,000 different Italian recipes. This cookbook is written by multiple authors that added their absolute favorite recipes.
If you have any remaining questions that you would like to have answered after reading this buyers' guide on pasta makers, feel free to send me a message using the contact page or by simply commenting on any of my articles here at FabulousPasta.