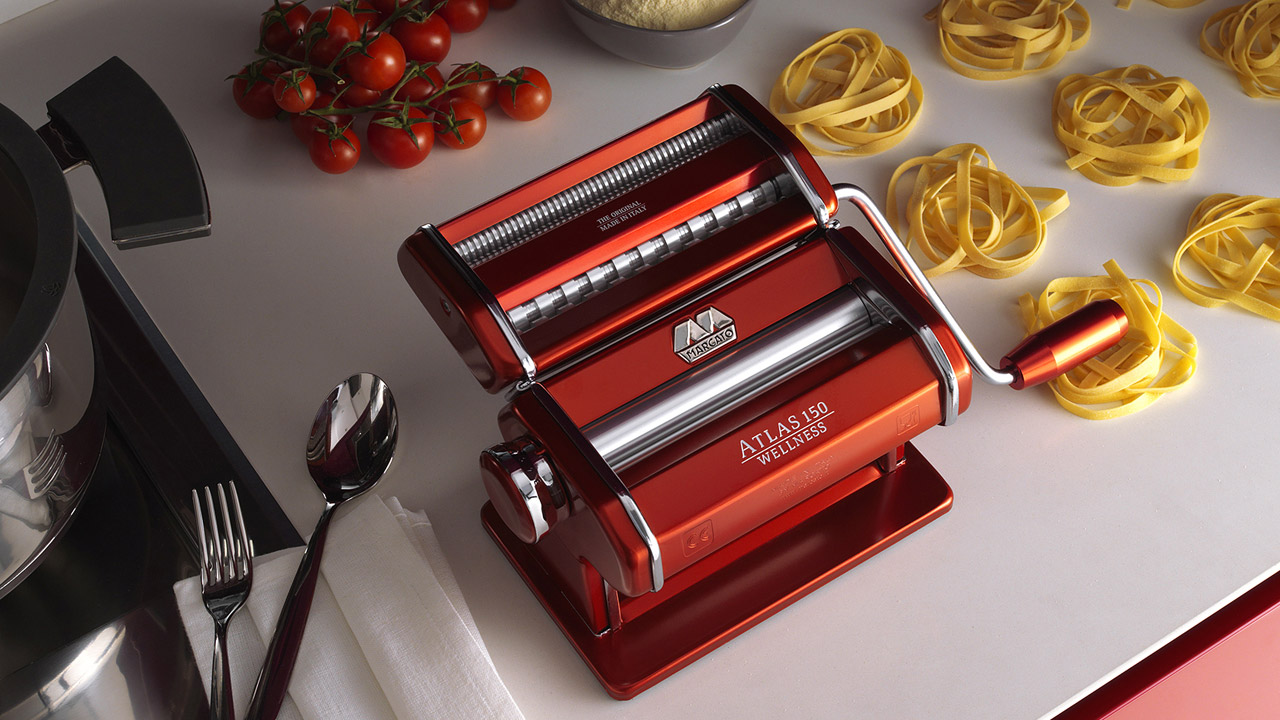 Homemade pasta is the real stuff! No more pre-packaged, dried pasta. In 2020, pasta makers have become sophisticated enough to make fresh pasta quick and easy.
Looking for the best? The electric Philips Pasta Maker; it can make fresh pasta in under 20 minutes and has been FabulousPasta's favorite choice since for the past five years! I love it as it allows me to make homemade pasta for dinner without having to think about preparing anything.
Looking for the best hand model pasta machine? The Marcato Atlas Wellness 150 is a great handroller and allows you to make pasta the way artisans have been doing for centuries. Or check all options in the comparison table below.
Being in control of the exact ingredients in your food isn't just healthy, it also allows me to express my own creativity by experimenting with new types of flour, colors and even flavors!
The 7 pasta makers reviewed – my honest opinion
However, it's important that you choose the pasta maker that matches your cooking and preferences. There is a lot of trash out there, but by researching and testing I present my carefully picked selection of the five best pasta makers.
---
---
---
---
---
---
---
---
In every short review below I will write down what type of use every pasta maker is recommended for. If you want more in depth information about each pasta maker, feel free to read every full review that comes with it.
1. Philips Pasta Maker
Best choice pasta maker for home use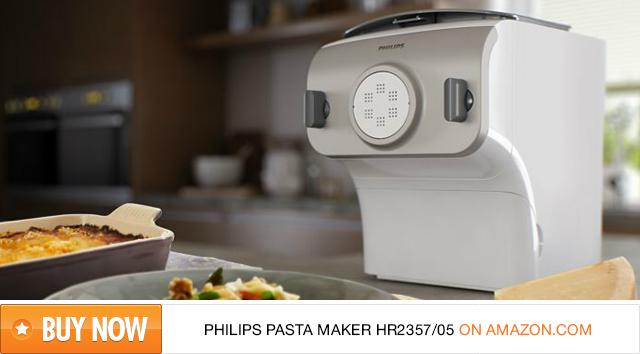 If you are in the market for a pasta extruder rather than a classic pasta roller, the Philips Pasta Maker is definitely the best choice and at the top of the best electric pasta makers out there. Its ease of use really surprised me and many of the other pasta lovers that initially bought this machine.
The Philips Pasta Maker is a pasta extruder, rather than a pasta roller. The Philips is one of the pasta extruders that does more than just extrude pasta, it also mixes and kneads the dough for you. It features a food processor built inside the machine itself, taking most of the work out of your hands. You simply add the ingredients of the pasta dough and the Philips machine will do the rest.
Using the Philips Pasta Maker you can quickly make batches of pasta; in under 30 minutes it allows you to make up to 2 pounds of fresh pasta. Philips advertises this as 20 minutes, but before you have all the ingredients ready some time will have passed as well. With the four default shaping discs that come with it, you are able to make spaghetti, fettuccine, lasagna sheets and penne. Of course, there are also more pasta discs available for you to purchase so you can experiment with even more shapes of pasta.
The Philips is perfect for daily use with how fast it can make a batch of pasta, and of course how easy it is to clean it. Making a batch of homemade pasta for your family and friends has never been so easy as with the Philips Pasta Maker. I often make a bigger batch of pasta for a few days with the Philips, as I can do other things when the machine is doing the mixing and kneading. Where the Marcato is the best manual pasta maker, the Philips definitely takes the crown if we look at electric pasta machines.
Read my extensive review and comparison on the Philips Pasta Maker and learn why this machine gets and deserves all the praise that it receives. You can also buy the Philips Pasta maker directly on Amazon.
2. Marcato Atlas 150 Pasta Machine Review
Best manual pasta maker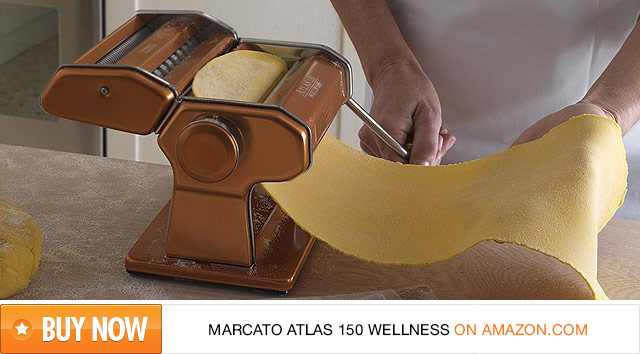 If you truly want to bring Italy into your home, the Marcato Atlas 150 Wellness is one of the best choices that you can make. The Atlas 150 machines are entirely produced in Italy, including the rollers and the blades, which are made of anodized aluminium. The rollers and cutters are actually quite special for a pasta maker, as they are patented by Marcato. They are the only company that can promise that there will remain no harmful particles in your pasta dough and that your pasta maker will last you a lifetime if you take decent care of it.
The pasta machine features a beautiful design as well as a sturdy and durable cast stainless steel body. You can choose between 9 beautiful colors that the Marcato comes in, ranging from blue to pink and of course the classic silver body.
The Marcato Atlas 150 Wellness makes it easy to make your own pasta within a matter of minutes. With the standard roller and cutter set that comes with it, you will be making your own spaghetti, tagliolini, fettuccine and perfect flat lasagna sheets. The adjustment knob makes it easy to determine the thickness of your pasta – you can choose from 0.3mm 2.5mm.
As Marcato is one of the largest and oldest manufacturers of pasta machines, and there are plenty of optional additional attachments that will let you make different kinds of pasta or even motorize the process for you.
In summary, if you are in the market for a classic manual pasta maker and you are set on buying a high quality pasta maker, the Marcato Atlas 150 Wellness (Amazon) is definitely the right pick for you. The Marcato is a good choice for those that are planning on regularly making pasta a few times a month, but can also be used for those that are planning on making pasta more often than that.
If you want to learn more about the Marcato Atlas 150 Wellness, you can read the full review on the Marcato Atlas here. I also have an extensive comparison of the Marcato Atlas VS the CucinaPro Imperia written in this review.
3. CucinaPro Imperia 150 Pasta Maker
Best cheap pasta maker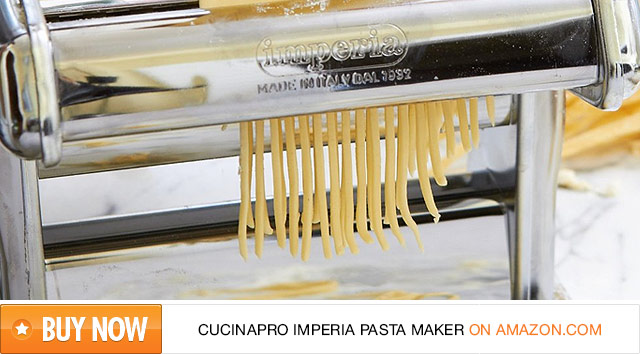 Of all the classic pasta makers that I own, they are made in Italy. The CucinaPro Imperia 150 (Amazon) is one of the machines that gets manufactured in Italy and are sold all over the world. This solid and shining machine will make sure that you can make your own delicious homemade pasta. Made from shiny chrome plated steel, the CucinaPro Imperia Pasta Maker will look brand new for decades if you take good care of it.
While the CucinaPro looks like most other standard pasta makers, the build quality is a lot better than the cheaper brands out there. Most of those brands don't manufacture their pasta makers in Italy, but rather do it in countries such as China. One of the things that is a big plus in my eyes is the fact that the handle of the CucinaPro is made of wood instead of plastic. This sets it apart of many other pasta makers out there.
Using the CucinaPro Imperia to make your own pasta couldn't be easier. It comes with an attachment to make spaghetti, fettuccine and lasagna sheets. With a ravioli cutting tool you will also to make any type of ravioli that you wish to make. With additional attachments that are available for purchase you can also make different types of pasta such as angel hair or different kinds of spaghetti.
CucinaPro has chosen to implement the standard 6 inch rollers, which mean that your lasagna rolls will have a maximum width of 6 inches (or 150mm, hence the name of the pasta maker). Of course, the CucinaPro also features a knob that will allow you to choose the thickness of the pasta sheets that you are rolling.
Just like the Marcato, the CucinaPro is a perfect fit for people that are planning on making pasta a few times a month. It can be used if you want to make pasta more often, but an electric pasta maker or an extruder is a better choice in that case.
If you want to know more about this pasta maker, I have written an extensive review of the CucinaPro Imperia 150 for you.
4. KitchenAid Pasta Roller & Cutter Attachment Set
Best pasta maker for KitchenAid owners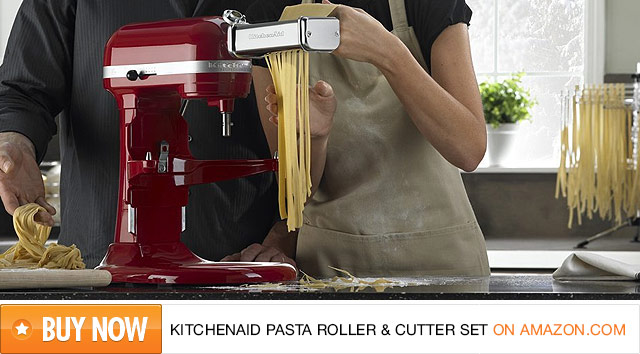 I have a few close friends that own everything that is made by KitchenAid. If you can be classified as one of these people, you might be interested in the pasta roller and cutter attachment set for your KitchenAid stand mixer. If you don't own a KitchenAid stand mixer, other pasta makers might be a better fit for you if you don't want to spend a lot of money on the stand mixer as well.
The KitchenAid Pasta Attachment Set is a set that consists of three different parts: a pasta roller for the lasagna sheets, a spaghetti cutter and a fettuccine cutter. You can easily attach the attachments on your KitchenAid without much effort. As the stand mixer is motorized, you will only have to feed the pasta dough through the rollers and cutters; the KitchenAid will do most of the work for you.
The quality of the KitchenAid attachment set is high, as you can expect from KitchenAid. The thing that I really love about the KitchenAid is the fact that it helps you make pasta really easily and very quickly. The dough feels like is just running through at a very fast pace, letting you make pasta at a very high speed.
The pasta attachments are perfect for people that already own a KitchenAid and are planning on making pasta on a regular basis. As the whole process (except making the pasta dough) is automated, a lot of work is taken out of your hands. The speed of the pasta maker is also a big plus, as you can make a big batch of pasta in a fairly short period of time.
Read the full review on the KitchenAid Pasta Attachments or buy it directly from Amazon.
5. Marcato Atlas Motorized Pasta Machine
Best motorized traditional pasta maker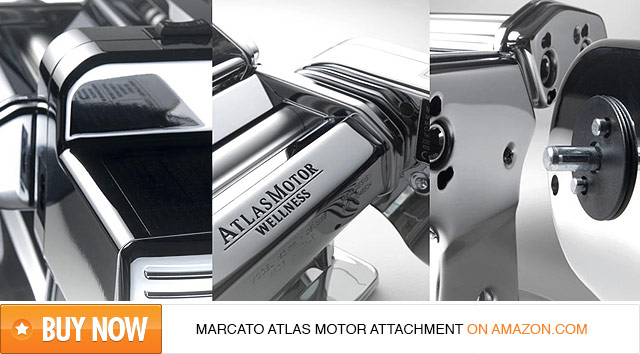 If you are looking for a pasta maker that offers the best of both worlds, both manual and electric, the Marcato Atlas with motor attachment is a good choice. This versatile machine comes with a motorized attachment that will turn the pasta maker into an electrical machine, making it even easier for you to make your own homemade pasta. Besides the motorized attachment, the box also contains the standard hand crank, giving you the option to operate the pasta maker by hand as well.
The motorized attachment that comes with the pasta maker will make it easier for you operate the machine, as you will be able to use both of your hands to get the pasta through. With the help of the motorized attachment, you will be able to make your pasta in a single flow. One of the biggest advantages of this electric pasta machine is that it doesn't necessarily have to be attached to a table, this will make sure you can use the pasta maker anywhere you like if there is a power source near. However, this set does include a clamp for the times you decide to use the hand crank.
Like most pasta machines, the width of the rollers is the standard 6 inches. You can choose between 9 different thicknesses, from a minimum of 0.2mm to a maximum of 3mm; this will assure that the pasta has the perfect thickness that you desired. The motorized attachment that can be used instead of the hand crank has a power of 220 volt, which will provide you with the perfect speed to roll your dough through the rollers.
With the Marcato Atlas Electric pasta maker you can easily make four different kinds of pasta: spaghetti, fettucine, lasagna sheets and tagliolini. As with every pasta maker, you can use the perfect pasta sheets you make to create a lot of different pasta besides the basic four that you can make with this pasta make. For this purpose Ihave written a instruction on pasta making for you, which will help you with making all kinds of pasta with your new pasta maker without any extra attachments.
Conclusion: If you want to conveniently make pasta, a few times a week or multiple times a month, the Marcato Atlas Electric Pasta Machine (Amazon) is the right pick for you. The machine is made with top of the line materials, and with the motorized attachment making pasta has never been this easy. If you want to know more about this machine, read the full review on the motorized Marcato Atlas.
What is a pasta maker?
The core definition of a pasta maker is exactly what you would expect it to be: a machine that makes fresh pasta. However, there are multiple types of pasta makers available on the market, making the choice for the best pasta maker that suits your needs a little bit more difficult.
Manual pasta makers: rollers & cutters
The classic design for a pasta maker is actually quite old, and has not had many dramatic changes. There are four different parts of the pasta maker that are most important: the rollers (1), the cutters (2), the manual handle (3) and the regulating knob (4).
These three compartments are the very basis of every manual pasta machine. Rotating the handle by hand will put the rollers and cutters to work, the rollers will roll your pasta dough flat and the cutters will cut it in the shape as you want it to be. You can use the regulating knob to reduce the thickness of the pasta, as the two rollers will get closer to each other.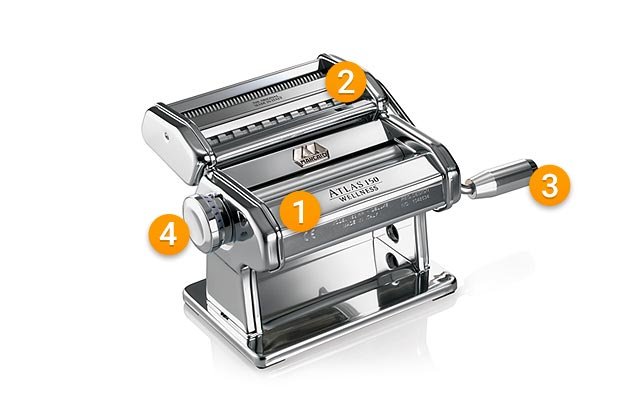 The types of pasta that can typically be made with a classic pasta maker are the longer types of pasta, such as spaghetti, fettuccine, pappardelle, angel hair and lasagna sheets. More adventurous types of pasta such as ravioli can also be made with the help of a ravioli stamp or a pasta cutter.
Manual pasta machines are perfect for those that plan on making pasta a few times a month, as it requires a bit more work than using an electric pasta maker. Of course, you can also use a manual pasta maker if you plan on making pasta more often; this will just require a bit more work and time.
Manual pasta roller brands
Currently the best pasta maker brands out there for manual pasta makers are Marcato and CucinaPro. Both these brands have proven themselves over the recent years and even decades. Besides the fact that they are made from high quality materials, they are also both manufactured in Italy. Almost all cheap pasta maker models are made in China and are of poor quality.
Electric pasta extruders: mixing & extruding
Besides the classical pasta roller there is also a more modern type of machine, the pasta extruder. This type of pasta maker does not use rollers or cutters, but shaping discs (1) that it will push the dough through. Pasta extruders are more advanced than manual rollers, as most of these extruders will also mix the dough for you in a special mixing compartment (2).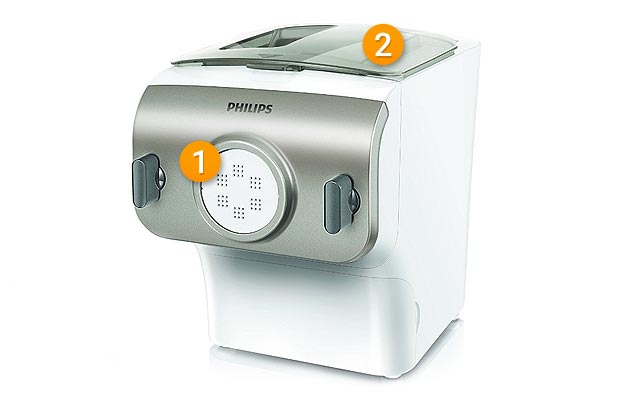 While you can make certain types of pasta that you can also make with a classic pasta maker, such as spaghetti and lasagna sheets, you can also make round shaped pasta such as penne with a pasta extruder. As always, ravioli can be made if you have a ravioli stamp or a pasta cutter.
Electric pasta makers are most sought after by those that are planning on making pasta on a more regular basis. The ease of use of these machines is very high, as a lot of work is taken out of your hands. The more often you plan on making pasta, the more interesting an electric pasta maker becomes, especially a pasta extruder. If you are looking for an electric pasta machine, read my guide on buying the best electric pasta maker.
Pasta Extruder Brands
Where lesser known brands dominate the market for classic pasta machines, a better known brand is actually performing better when we are looking at pasta extruders. Philips is doing very well for themselves and their customers with the Philips Pasta Maker, which is one of the best electric pasta extruder out there right now. Lello is another brand that is doing fairly well, but their products don't match with the high quality Philips Pasta Maker.
Choosing the perfect pasta maker
While a certain pasta maker can be the best in comparison of other pasta makers, this doesn't always qualify it as the best pasta maker for you as well. Maybe you are planning on making pasta a few times a week, and automating this process as much as possible will be quite possibly be the best solution in that case. Or you are planning on making pasta a few times a month, buying a classic pasta machine in this case sounds like a better plan.
It is my job to make sure that you pick the pasta maker that fits your needs the most. Whether this isn't my favorite type of pasta maker doesn't play a role in this case. The pasta makers that I recommend are all high quality pasta machines, and I make it very clear when I do not recommend a certain pasta maker.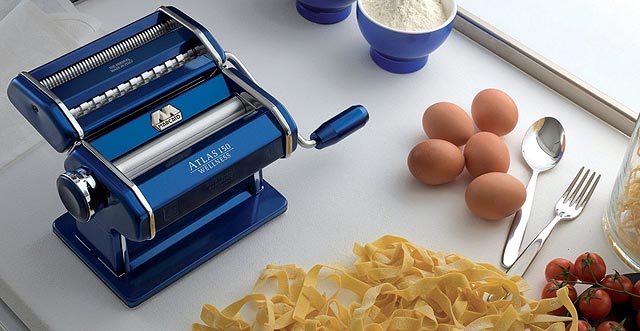 In the past I reviewed cheap pasta makers as well, but I always ended up not recommending any of these machines. The quality of the pasta makers were low, they wouldn't last me very long and there were always little annoyances.
With the pasta makers that I have currently reviewed on FabulousPasta I am sure that they are of a high standard. By recommending these high quality pasta makers I can be confident that my visitors are buying themselves a pasta machine that they will still be using after 10 years.
Frequently Asked Questions about Pasta Makers
There are quite a few questions that I get asked more often that I had expected when I had written the initial set-up for my homepage. These questions I will answer in the paragraph below.
If you have any remaining questions that you would like to have answered after reading this buyers' guide on pasta makers, feel free to send me a message using the contact page or by simply commenting on any of my articles here at FabulousPasta.