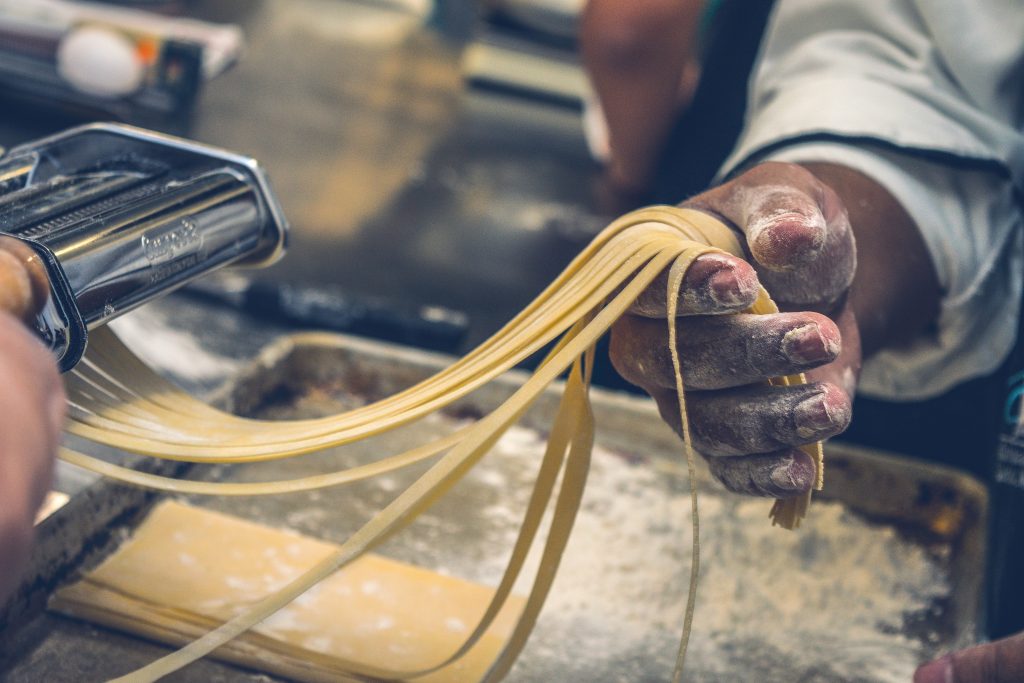 Are you a pasta lover, but the idea of making fresh gnocchi scares you? Have no fear, preparing gnocchi is much simpler than you think and with the help of a pasta maker, it is faster and easier than ever! Today I'm going to show you how to make one of my all-time favourite pastas!
Gnocchi is an Italian variety of dumpling, famous around the world for its light texture and great flavour. Like any fresh pasta, gnocchi is traditionally composed of flour, salt and egg, but the key difference is the magical ingredient: potato.
There are a lot of good reasons why making fresh gnocchi is so worth it over the store-bought stuff. Firstly, homemade gnocchi is way lighter, fluffier and more tender.
Secondly, preparing your own gnocchi pasta also gives you control over the flavor you want, whether you want to throw in some creative flavours or spice it up a bit, or deciding what kind of flour to use in your dough.
Whatever you choose will influence its taste and texture and can make it more interesting. Lastly, there is nothing more heartwarming and satisfying than to eat your own freshly made gnocchi.
So without further ado, let's find out how you can make your own gnocchi!
---
Fresh Gnocchi Recipe
Making Gnocchi pasta is mostly the same procedure as making ordinary pasta, except of course, we're using potatoes to create a light, pillowy pasta.
When you're making homemade Gnocchi, don't worry about spending a lot of time getting the perfect shape, just enjoy the process! Once you've learned how to use the pasta maker in the right way, you will never consider buying pre packaged gnocchi in the supermarket ever again. Here's how you do it:
Ingredients
To make this super easy and simple pasta, all you need are five basic ingredients, most of which you should already have in your kitchen.
1½ cups pasta flour (This can be any flour you like – see our flour guides for advice)
4 Medium Potatoes (Use Yukon gold or russet potatoes for even better texture)
1 large egg, beaten
1½ tsp salt
2 tbsp butter, melted
Instructions
Step 1: Prepare the potatoes
Clean any dirt off the potatoes and boil until tender
Set aside to let them cool
Once cool, peel the skin off and mash the potatoes finely
Tip: peeling the skin after boiling ensures they don't absorb too much water
Step 2: Create a dough
Mix the salt and flour and pour into a mound on a flat surface
Create a well in the middle of the mound and add the mashed potatoes, beaten egg and melted butter.
Bring the mixture together using your hands and knead to form a soft dough.
Step 3: Let the dough rise
Cover the dough with a plastic wrap and let it rest for about 20 minutes.
Step 4: Feed the dough through the pasta maker and shape
This step depends on the pasta maker you have, so adapt the techniques for what you have.
Place a container below the pasta maker with a mixture of flour and starch so when your gnocchi falls down, they won't stick together
Pass the dough through the machine on the thickest setting and repeat x3
Repeat the process a few more times with a thinner setting each time
Step 5: Cook the Gnocchi
Cook the shaped gnocchi in boiling water with salt for about 3 minutes or until they float.
Keep an eye on your gnocchi to avoid overcooking it.
Drain and serve
Bon appetit!
---
Tips
Pick a starchy and naturally drier potato like Yukon gold and russet. Red and yellow potatoes hold a lot of water and can make your gnocchi tough and chewy.
Do not peel the potato skin before boiling. The skin keeps the potato from absorbing too much water.
The potato gnocchi works even better if you boil and mash the potato the day before and leave in the fridge overnight
When it comes to mashing the potato, a fine ricer ensures a fluffy and silky smooth result. Using a fork and even a potato masher can still leave lumps
If you like your gnocchi crispy, toss it in a skillet with some butter and fry on a medium high heat. Once browned, add to your sauce and serve
Add a bit of flavour to your fresh gnocchi with spinach powder, turmeric or beetroot powder.
Simple as that! Hopefully you're well on your way to making your own fresh gnocchi. This potato pasta goes well with all types of sauces and soups. You can pair your fresh pasta with cheesy bread sticks, some exquisite Alfredo, or a nice Italian Salad. It is perfect for a weekend meal and even for a dinner party. Enjoy!
If you have any questions about making your own pasta, or want to share your experiences and top tips, feel free to leave a comment below, I'd love to hear from you!