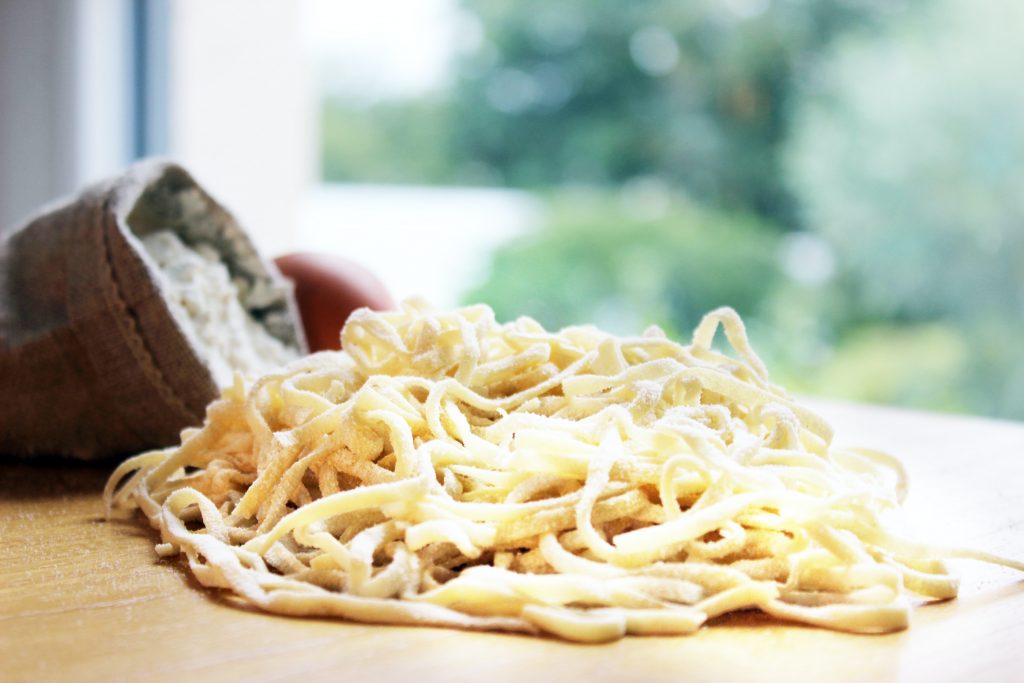 Making fresh pasta at home shouldn't be off the cards for anyone with a gluten allergy or different dietary preferences. Today I'm going to show you how you can make gluten-free pasta that is just as good as the real thing!
The richness of Italian cuisine, from rich and oozy pizzas to freshly made bread and most importantly: fresh pasta, is one of the finest in the world with a dizzying variety of shapes and flavors to choose from. However, the vast majority of these meals call for wheat in the ingredients, which presents a problem for those following a gluten-free diet.
Irrespective of dietary restrictions, everyone should be able to enjoy traditional Italian cuisine, especially those of us who love to prepare fresh pasta at home. That's why today we're going to show you how you can still make your very own gluten-free homemade fresh pasta which is just as delicious as the real thing.

Homemade gluten-free fresh pasta is so much fun to make and a straightforward procedure to follow. All you need is the perfect recipe, fresh ingredients, and some patience.
---
Gluten Free Fresh Pasta Recipe
This recipe will provide a basic guide for all types of homemade gluten-free pasta and will also address some questions about the best ways to prepare and eat fresh pasta free of gluten.
Whether you are making gluten-free tagliatelle or lasagna, all you need are a few basic materials and a pasta maker. The amounts listed here will create enough for four portions.
Ingredients
Instructions
In a bowl, add the flour, salt, and Xanthan Gum, and mix together before pouring onto a clean, flat surface to make a mound.

Indent a well into the centre of the mound and gradually a beaten egg into the well, stirring in a small amount of flour to combine the egg into the mixture. As the flour incorporates, keep stirring until a dough forms.

Cover the dough with plastic wrap and refrigerate for 30 minutes.

Remove from the fridge and cut the dough into four sections, then roll each section into a smooth ball.

Sprinkle some flour on the table and pasta maker and flatten each ball before feeding it through your pasta maker to form rectangular sheets. Feed the balls through twice and fold over every other turn before running it through again.

Adjust the roller by a few notches to be more narrow and run it through it twice more. Sprinkle the dough with flour if it appears sticky. Continue to Flatten each rectangle thinner by significantly lowering the roller diameter until it is 1mm/1/32″ thick. (Or whichever thickness your pasta variety requires).

Allow to rest, then cook in boiling water. Using a big pot, bring the water and salt to a rolling boil, then add the pasta. Based on the pasta's dimensions and thickness, cook for 3 to 8 minutes. Once cooked, drain the pasta and brush some olive oil over it to prevent sticking, before serving.
Top Tips
Pasta made without gluten has more starch than ordinary pasta which may cause excessive foam during the cooking process. I'd suggest using a larger pot than normal that is no more than two-thirds full to avoid any starchy spillage.
FAQs
What ingredients can gluten-free pasta be made with?
Many high-quality substitutes have emerged due to the rising demand for gluten-free pasta, including quinoa, chickpea, and pasta made from brown rice. Xanthan gum is used in most dishes for fresh gluten-free pasta, without a gluten replacement, your pasta dough can crumble or break. Xanthan gum guarantees that your dough will be elastic enough to be formed into whatever shape you desire.
Does gluten-free pasta have a distinctive flavor?
Since there are so many various kinds of gluten-free pasta, it is challenging to pinpoint a particular flavor. However, a typical criticism of gluten-free pasta is that it can occasionally taste a little bland.
Luckily, there is a quick trick to give gluten-free pasta a little extra zip: add salt!
I recommend using 1.5 tablespoons for every 500g of fresh pasta if you need a more precise measurement. Although your pasta won't take all of this salt, it will still give it lots of taste.
Can gluten-free pasta be frozen and reheated?
It's not a good idea to keep gluten-free pasta in the fridge. Many types of gluten-free pasta are derived from either corn or rice, which breaks faster than wheat-based pasta. As a result, cooking it again can result in some not very nice mushy pasta. I'd advise you to only prepare as much gluten-free pasta as you can eat in one sitting.
If you have any questions about making your own pasta, or want to share your experiences and top tips, feel free to leave a comment below, I'd love to hear from you!