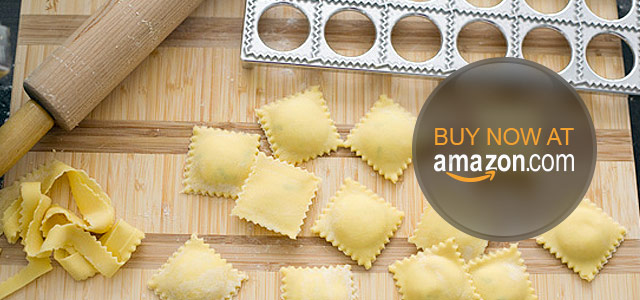 There are many ways and different tools out there to make your own ravioli. From cutters to rollers, the choice is yours. One of my favorite kitchen gadgets is the Norpro Ravioli Maker with Press, a ravioli press that doesn't even require a pasta maker; all you need is a simple rolling pin. This is definitely one of the best reviewed ravioli makers out there.
The Norpro Ravioli Maker allows you to easily make homemade ravioli, and this ravioli press allows you to make 12 ravioli at once. With the press you can fill 12 individual ravioli's, and the process of making them can't get any easier, that's for sure.
Using the Ravioli Maker with Press
There are a few things that you need to take care of before you use the Norpro Ravioli Maker, and the most important thing is that you need to get the dough right. The ravioli press comes with an instruction manual that also features a recipe for the dough, all you have to do is follow that recipe or if that isn't clear enough you can read our how-to on homemade pasta dough.
The Norpro Ravioli Maker is made out of two different parts: a plastic part that you use to dent the ravioli, so you can fill it with your stuffing of choice. The other part is the metal shape that will make the outer shapes of your ravioli when you roll over it with your rolling pin.
Once you have made your pasta dough and you have let it rest for a few minutes, you can start rolling it out with your rolling pin. If you have a pasta roller or a pasta extruder, you can also let those machines do the work for you, but otherwise using a rolling pin works just as well. Then you have to split your rolled out dough into sheets that are approximately 12 to 13 inches in length and a little over 4 inches in width.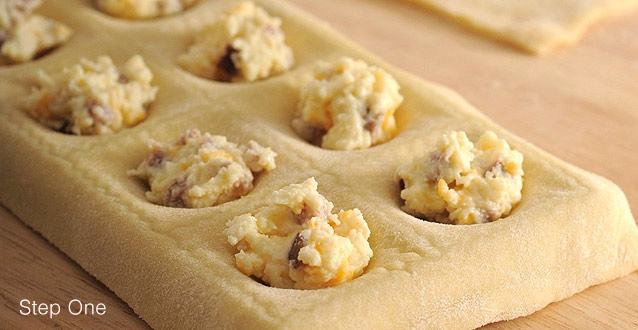 Once you have cut your pasta you can lay a pasta sheet on the metallic part of the Norpro Ravioli Maker. You then grab the plastic shaper so you can make the dents in the pasta sheet. You then simply place your filling of choice in the dents, and once that is done you can place another sheet of pasta dough on top of it.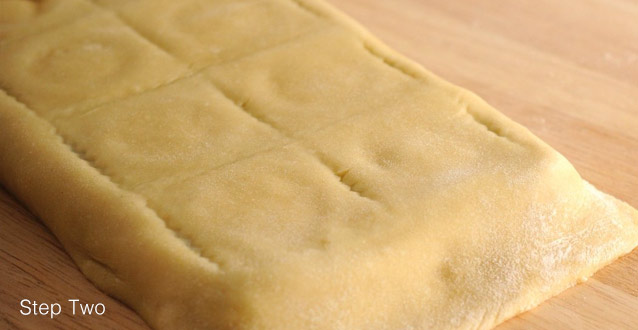 And you are almost done! All that is left to do is grab your rolling pin and start rolling over the metallic part. The sharp edges of the metallic ravioli press will cut the dough off at the right spots, and this will ensure that you get the perfectly shape ravioli that you deserve.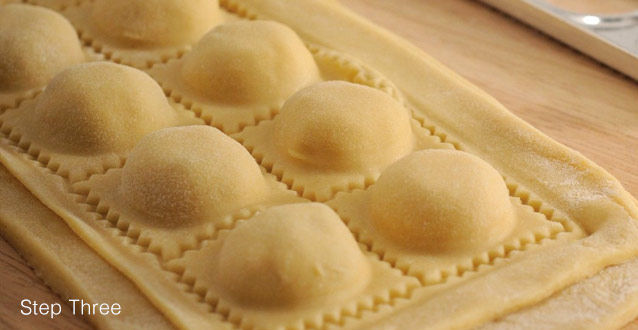 Delicious homemade ravioli recipes
Next to the dough, the most important aspect of ravioli is the filling. Even if you have the best ravioli maker in the world, you won't get anywhere without getting the perfect filling. If you are looking for delicious ravioli fillings, you can always take a look at my Pinterest board that is dedicated towards delicious ravioli recipes. If you prefer reading a real recipe book, you should take a look at Making Artisan Pasta by Aliza Green. It covers the basics of making homemade pasta and it has quite a few ravioli recipes, great for everyone getting into the pasta scene.
Should I buy the Norpro Ravioli Maker?
This is one of the easiest ways to make ravioli at home. If you really want to try out making ravioli, this is probably one of the best ravioli presses out there. The price of the ravioli press is definitely not something that should hold you back. This is a great kitchen gadget to get you started with your own homemade pasta and ravioli. I would say, give it a go and you won't regret it if you are a pasta lover.
You can buy the Norpro Ravioli Press on Amazon.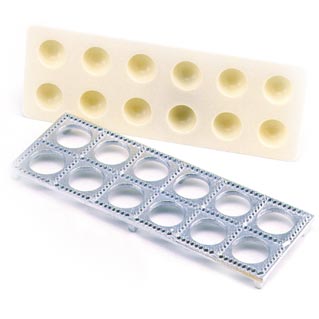 The Norpro Ravioli Press is perfect if you want to make ravioli in bulk quickly. The classic square shape will fit with almost every recipe.
Buy Now

Looking for other gadgets to have fun with your pasta in the kitchen? Take a look at my list with the best pasta maker accessories.