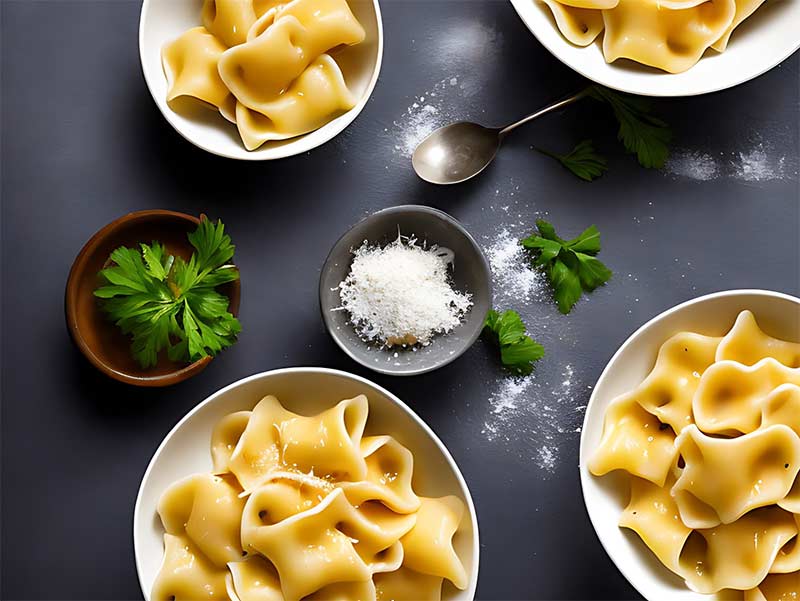 Today we are making Fresh Agnolotti pasta – Agnolotti is Italian for "priest's hat" which is exactly what it looks like! This is a stuffed pasta similar to ravioli, but just different in shape.
One of the great things about stuffed pasta is you can play with the fillings and stuff it full of the things you love. For today's recipe, we will be having Butternut Squash Agnolotti.
---
Agnolotti Pasta Butternut Squash Recipe
This recipe is in two parts, the dough and the fillings. If you want to swap the butternut squash for another filling – go for it! For other filling ideas, why not check out our ravioli filling recipe which can be used for Agnolotti too!
Ingredients
For the agnolotti dough:
1 3/4 cups all-purpose flour
1 large egg
6 large egg yolks
1 tbsp milk
1 1/2 tsp olive oil
For the pasta filling:
½ butternut squash (peeled, seeded, cut into ½-inch pieces)
1 clove of unpeeled garlic
1 unpeeled shallot
½ cup walnuts
3 tbsp olive oil
20 sage leaves (divided)
2 sprigs thyme
Freshly ground pepper, Kosher salt
6 tbsp butter (unsalted)
2 tbsp sour cream, crème fraîche, or mascarpone
2 tbsp Parmesan (grated), plus more for serving
1 tsp fresh lemon juice
Cornmeal or semolina flour
Pinch of red pepper flakes (optional)
Instructions
Step 1: Make the Agnolotti Dough
Mound the flour on a board and push the flour on the sides to form a circle or a well. This is where you will beat the eggs, so make sure that it is wide enough.
Pour the egg, egg yolks, milk and oil into the well. Mix them and slowly pull the flour into the center until all of them are mixed together.
When the dough thickens and can lift itself, knead the dough. The dough should not feel sticky, but feel moist. Knead for 10 to 15 minutes until silky smooth.
Wrap the dough in plastic to avoid drying out. Let the dough rest for 30 minutes to 1 hour in the refrigerator.
Step 2: Roll the dough into sheets
When the dough is rested enough, divide it into 2 pieces, dust the first one and roll into the pasta maker.
Roll into sheets that are 30cm wide and 2mm thickness then leave to one side
Step 3: Make the Filling
On a rimmed baking sheet, toss 4 sage leaves, red pepper flakes (optional), thyme, oil, garlic, shallot and squash. Season with salt and pepper. Cover lightly with foil. Bake in preheated oven at 425° temperature until shallot and squash are tender. Let them cool on a plate. Peel shallot and garlic once cool.
Prepare the walnuts into baking sheet and reduce oven temperature to 350°. Toast the walnuts until golden brown (8-10minutes). Cool and chop finely then set aside.
In a food processor purée baked squash, peeled shallot and garlic, lemon juice and mascarpone until smooth. Put on large reusable plastic bag and cut a little opening in a corner or use a pastry bag fitted with 1/4 inch tip.
Step 4: Add the Filling and Shape the Pasta
Pipe half a teaspoon-sized dots of the mixture in 3cm intervals along the pasta. You should able to fit 5 dots in a pasta sheet.
Carefully fold the pasta and push down to seal. Use cutter to cut the excess pasta. Pinch between the fillings with your fingers to create pockets and seal it.
Make a flap by folding the pasta forward and to separate each pocket and in fluted effect, use a pasta wheel. Place each Agnolotti in a cornmeal-dusted tray.
Step 5: Cooking
In a medium pan, heat the butter over a medium heat. Swirl the pan often to form butter foams and until it browns (4-5 minutes). Turn off the heat and stir the rest of the sage leaves.
Boil salted water in a large pan with Agnolotti for 2-3 minutes (stir occasionally), drain and toss to the pan with browned butter. Add 1/2 cup of pasta water. Cook over a medium high heat, toss until fully coated and sauce has thickened (2-3 minutes). Season with salt.
Drain and serve, topped with walnuts and grated Parmesan.
Bon appetit!
---
Tips
If you have a hectic schedule, you can make Agnolotti up to 3 months ahead. Freeze it first on a tray, then transfer to resealable bag and keep frozen.
The best way to cook frozen Agnolotti is to simply toss it into boiling water without waiting for it to defrost. It takes 10-12 minutes to cook.
If you have any questions about making your own pasta, or want to share your experiences and top tips, feel free to leave a comment below, I'd love to hear from you!