Made a perfect batch of spaghetti, tagliatelle, reginette.. whatever, you don't want your pasta to start sticking together – drying racks are here for a reason. Pasta drying racks are commonly used to speed up the drying and to prevent the pasta from sticking together. Generally, most drying racks will be perfectly fine. Is there a 'best drying rack'? Yes, but there are a few!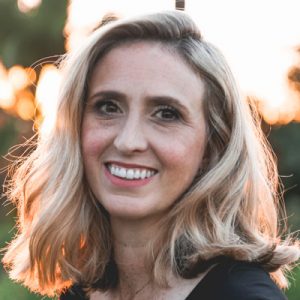 While there are differences in quality, most drying racks will dry your pasta just fine. Some racks are easier to store, are made from sturdier materials and some just look better. My favorite rack comes with a nifty pasta wand that'll make it super-easy to transfer the pasta.
The 4 best pasta drying racks
---
1. Best pasta drying rack & my recommendation
The best doesn't have to be expensive. This sturdy can hold up to to 4.5 lbs of pasta divided over its 16 arms. Rubber feet prevent slipping. Done? Clean it off with a soft cloth & fold it away for storage.
---
2. Best wooden drying rack
Made from Italian beechwood. Holds a lot of pasta and doesn't look as cheap as many plastic models. Height of 14″, which allows longer noodles to dry. Set up and disassemble in around 1 minute. Folds flat for optimal storage. And looks way better than a plastic rack!
---
3. Best budget choice drying rack for pasta
Very easy to to (dis)assemble and takes up very little space. One of the best budget options available. Made from beechwood, 16″ inch tall and stores enough for around 3-4 batches of fresh pasta.
---
4. High quality drying rack
The original made by Marcato. 16 sturdy arms, a magic wand.. and of course the 10-year warranty you get with all Marcato products. Available in multiple colors.
---
Buying guide – how to choose the best drying rack for your homemade pasta
Comparing the drying racks, they all do the same – does it even matter?!
They all do the same and there are some pretty terrible designs out there, actually.. I'll save you the trouble and recommend you pick one of the racks above. I'll help you choose the best one that suits your needs though, I'll keep it short.
Marcato Atlas Tacapasta Drying Rack
I'm a big fan of the Marcato drying rack – quick to set up, hangs a lot of pasta & doesn't take up much space when folded back together. The bad news is that you can't exactly call Marcato's drying rack cheap.
But you're in luck actually! There are a lot of rip-offs available that do the exact same thing and even include the nifty pasta wand to easily transport your pasta. The difference is that they're a lot cheaper. If you want the best pasta drying rack that can hold your big (or rather huge) batches of fettuccine, spaghetti, rigenette.. I'd say get the Marcato or something that looks like an exact copy.
With fan-like opening and a fast-closing mechanism, these drying racks takes up very little space. If you decide to buy the Marcato drying rack, you'll get a 10 year warranty. Besides, Marcato is proud that their products are made in Italy.
For a quick overview, I have made a simple overview with the selection of the five best drying racks. For a more detailed review, check the individual reviews below to read what my personal experiences with each pasta drying rack is. For a quick view of the models that I review, take a look at the quick buyer's table below.
The best choice material for your drying rack
The Marcato Tacapasta Drying Rack comes is made of polycarbonate, making the whole design very sturdy; there is no need to be afraid that you are breaking anything with this dryer. Besides the machine being as sturdy as possible, the design is also as fabulous as a pasta drying rack can get. With 16 arms to hang the pasta on, the Marcato Tacapasta can carry up to 4 pounds of pasta.
However, the best part of the Marcato Drying Rack is the fact how easily you can assemble and disassemble it through the folding mechanism. In less than 20 seconds you will have the rack up and standing. Wooden drying racks often take a bit more time to set up as they require some assembly.
A pasta wand makes your drying rack even easier to use
It also comes with a 'pasta wand', which will make it easier to catch the pasta that is being rolled and cutted with your pasta roller, and makes it easy to hang it on the rack. It makes it a lot easier to actually hang the pasta on the drying rack, and I think it would be a great addition for every pasta dryer out there. This wand can also be used to cut the pasta sheets when needed, so there is no need for having a knife around.
I have had my Marcato Pasta Rack for over 6 years now, and it still looks brand new. If you are looking for a drying rack that will fulfill all your pasta making needs, this is the right choice. You can buy the Marcato drying rack on Amazon.
Navaris – a cheaper option for Marcato's Tacapasta


There are quite a few companies that have copied the design of the Marcato drying rack, but most of these copies lack the build quality and materials that are used by Marcato. The only brand that has successfully copied it, is Kitchenaid with their KitchenAid KPDR Pasta Drying Rack. However, the KitchenAid comes with only 1 year of warranty where Marcato offers you a total of 3 years.
If we compare the KitchenAid with the Marcato, the KitchenAid drying rack is cheaper in most circumstances which makes it an obvious choice for a lot of people. On Amazon it sells for quite a lower price than it's competitor. While the difference in prices between the Marcato and the KitchenAid aren't that big with an average of a $10 difference, the huge difference between the 1 and 3 year warranty made it an obvious choice for me.
Eppicotispai Wooden Pasta Drying Rack Review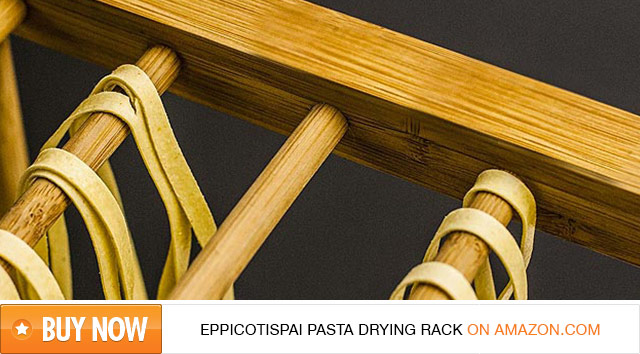 If you are looking for a wooden pasta drying rack the choice that you get is overwhelming. There are quite a few lousy ones that I really wouldn't recommend buying, but the Eppicotispai Drying Rackis definitely not one of those.
The wooden design of the Eppicotispai is simple but effective, and with it's usual price below 20 dollars it's a great deal as well. I have actually purchased a second one of these and coated it with lacquer to make the wood look a few shades darker. It came out nice and gave it a more distinguished look.
The Eppicotispai can be disassembled fairly easily, and once it it set up it is very sturdy and will have enough place to hang multiple batches of pasta. The only downside is that it consists of various parts, and losing an essential part of the rack would make it unusable. For this reason I recommend the Marcato if you tend to lose things around the house. Otherwise this is an amazing rack for drying your homemade pasta.
Conclusion: The Eppicotispai is perfect is you are looking for a wooden pasta drying rack. It is low in price and does the job. Nothing less, nothing more. It is available on Amazon.com for less than 20$.
Norpro Pasta Drying Rack Review


If you are looking for a pasta drying rack with a playful style, the Norpro Pasta Drying Rack is a good choice. On Amazon it is well known for it's low price and playful design.
In comparison to other drying racks, the Norpro is fairly small in size. This make it an ideal drying rack for everyone that wants to make a few batches of pasta at a time. However, if you are planning on making large batches of pasta consecutively this drying rack might not have enough space for you and the Marcato or the Eppicotispai might be better choices for you.
The smaller size of the dryer is also beneficial, as it is takes less space away both when you are using it and when it is stored away. Just like the Eppicotispai the Norpro can be disassembled for the moments that you aren't using it. However, losing an essential part can make the whole rack useless for further use.
Conclusion: The Norpro is great for those that have little space or just don't want their drying rack to take away a lot of space when they are using it. Works great with smaller batches of pasta for about 4 to 6 people. The perfect pasta drying rack for you, read more about it on Amazon.
Benefits of a Pasta Drying Rack
The worst thing that can happen after making a delicious batch of fresh pasta is seeing all your hard work sticking together, and becoming a heap of pasta. Believe me, it isn't a pretty sight. A pasta drying rack will make sure that all your longer types of pasta, such as spaghetti, fettuccine and your lasagne sheets, will not stick together. Result? Delicious pasta and a very happy you.
When you lay your pasta on the table to dry instead of hanging it, the drying process will go a lot less quick. Having a pasta drying rack will ensure that your pasta dries more quickly.
Do It Yourself Pasta Drying Rack
My very first drying rack for my pasta was actually one that I had made myself. It wasn't a pretty sight, since it was basically an old broomstick placed between two chairs; but hey, it worked. Luckily there are a lot of crafty people out there on the internet. Using the video below I managed to make an amazing do-it-yourself pasta drying rack. Best part? You can choose the type of wood that you want to use, this means you can make your pasta drying rack as fancy as you want.
It actually works really well, and the best part is that you can easily disassemble it when you aren't using it.
If you really are in dire need of a place to dry your pasta and you don't have the time to buy a drying rack or make one yourself, here are two quick tips:
Tip #1: Grab the handle of a broom or mop and place it between two chairs. It might not look as fancy a legit drying rack for your pasta, but it will do the job.
Tip #2: Take a tea towel and lay it down on your table. You can place your pasta on this towel in straight lines. The pasta will take more time to dry, but it's a really easy and quick technique to dry your pasta if you there isn't a pasta drying rack near you.
Hopefully it is a lot more evident which pasta drying rack out there is the best one for your needs. If you have any questions regarding choosing a drying rack, feel free to leave a comment and I'll help you choose.
Are you looking for even more pasta maker accessoires, such as pasta stamps, cutters and ravioli trays? Feel free to read our buyer's guide on pasta maker accessoires and as always: questions are welcome! Happy cooking!