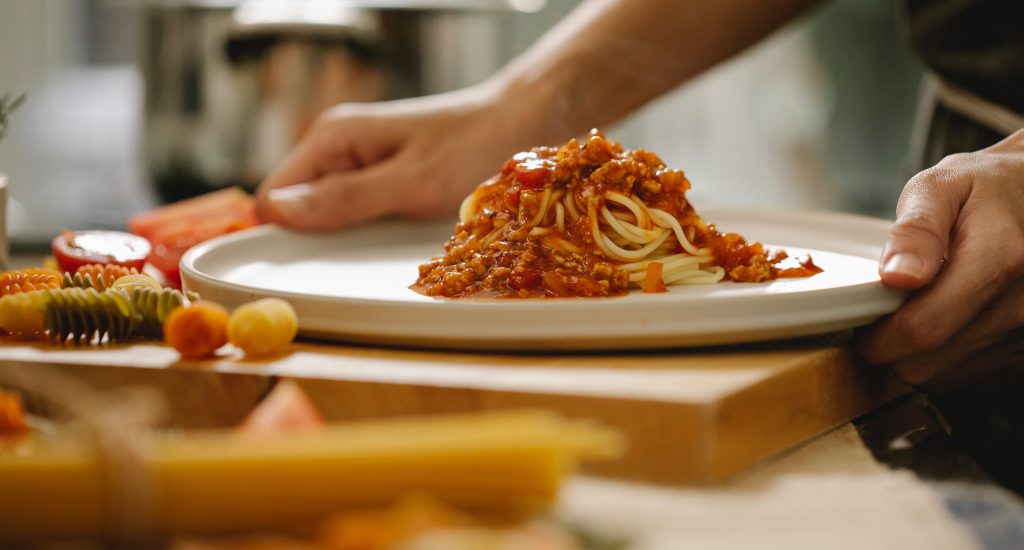 A traditional pasta sauce with fresh, handmade long pasta such as spaghetti and tagliatelle is one of the best comfort foods in the world. This recipe is crafted with vine-ripened tomatoes and passionate, Italian goodness.
When it comes to pasta sauces, people tend to go with the traditional one. It is simple and you know that what to expect. A classic tomato pasta sauce is rich and flavourful. As a go-to for all family meals, you can prepare it in an instant and have a pasta that not only makes you feel full but also it will leave you feeling satisfied.
This pasta sauce recipe is quick and easy to make and you can even store it for later if you need to. All you need are a few simple ingredients.
---
Easy Homemade Traditional Pasta Sauce Recipe
While yes, you always have the option to buy a canned pasta sauce, nothing is more rewarding than making it at home. You also get the freedom to adjust the ingredients according to your taste preferences. What is also great about making your own pasta sauce is that all the ingredients you need are usually readily available in your kitchen. With only a little effort you can create a thick and flavourful pasta sauce that you will surely love. Simply prepare the ingredients by following the simple steps below and you are good to go.
Ingredients
Crushed canned tomatoes (28-ounce)
1 medium yellow/white onions, finely chopped
4 cloves of garlic (minced)
Salt and pepper (to taste)
2 tablespoons olive oil
Seasonings (dried oregano and pinch of sweet paprika); to taste
Fresh herbs (chopped fresh parsley and torn basil); to taste
1/2 cup of water (pasta water)
1 lb of ground meat of your choice. (Optional)
Instructions
Step 1: Cooking the Meat
Heat some olive oil in a braiser or pot.
Add the ground meat of your choice and cooked it in a medium heat.
Toss it occasionally. Do it until fully brown.
Drain the meat and set aside.
Step 2: Add the vegetables
Chop the onion and garlic into tiny bits and put them together.
The first step is to establish the flavor. In the same pot where you cooked your meat, add a little bit more of olive oil and saute them for 2-15 minutes.
At this point, you can add any other vegetables you like, finely chopped
Step 3: Combine
Add back the cooked ground meat and mix them together.
Step 4: Add the tomatoes and seasoning
Pour 1/2 cup of water and add crushed tomatoes. Season with salt and pepper.
Stir sweet paprika, dried oregano, basil and parsley. Let them boil a bit, then lower the heat.
Step 5: Simmer
Cover and let your sauce simmer for 15-20 minutes. Occasionally check if it needs more water (you can use pasta water) and stir a little.
Step 6: Cook the pasta
For best tasting pasta, add freshly boiled spaghetti to your sauce and cook for 5 minutes more. This will allow the pasta to absorb the goodness and flavor of the sauce.
Step 7: Serve!
Serve and top with fresh parsley or basil.
Bon appetit!
---
Tips
For your pasta, boil it with a generous amount of water to have plenty of room for your pasta.
Use an airtight glass or plastic container for your pasta sauce and refrigerate it to last up to 3-7 days.
This pasta sauce is perfect for long pasta such as spaghetti, tagliatelle, and tortellini but also works with smaller types. I've found that the long types hold the sauce well.
You can pair it with fresh, handmade long pasta or dried pasta.
Use pasta water to make your sauce thicker.
FACTS
A good amount of extra virgin olive oil will infuse flavor in your sauce.
Traditional pasta sauce will also taste good, even without meat. Good news for vegetarian.
You can add butter, cream, cheese, hot pepper flakes and red wine.
This pasta sauce can stand on its own without meat, but you can also pair it with clams, pancetta cubes, sausage and vegetables
You can freeze pasta sauce and you can store it for 3 months.
There you have it! A simple, easy and inexpensive traditional pasta sauce recipe that you can never go wrong with. With some basic ingredients and a few simple steps, you can enjoy a hearty meal with your family.
If you have any questions about making your own pasta, or want to share your experiences and top tips, feel free to leave a comment below, I'd love to hear from you!