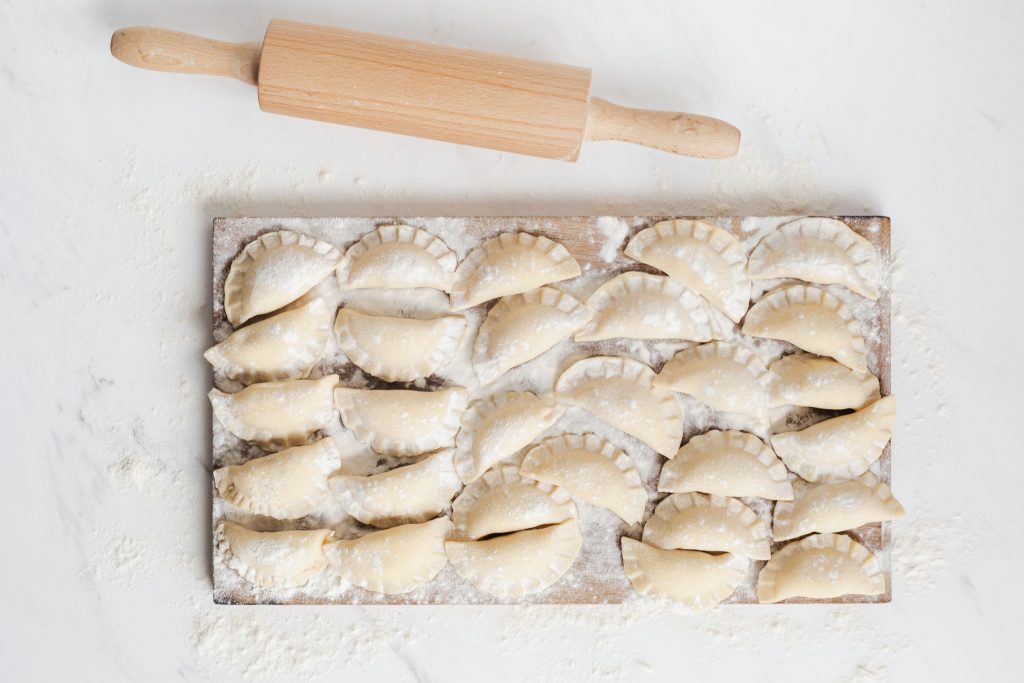 Try this amazing homemade Pierogi recipe and recreate an eastern European favourite and one of Poland's national dishes! These crescent shaped-dumplings are made by stuffing a dough with a variety of savoury or sweet fillings ranging from cottage cheese and blueberries to sauerkraut!
This Fresh Pierogi Recipe is the basic cheese and potato recipe which can be served with butter, caramelized onion and sour cream. You can also add crisp bacon for a unique and incredible taste.
---
Fresh Pierogi Recipe
You only need two hours to make these: one and a half hours for the preparation and 30 minutes of cooking time. Are you ready?
Ingredients
For the dough:
For the filling:
3 ¾ lbs potatoes
4 ½ cups cheddar cheese (shredded)
⅓ cup butter (divided)
1 white onion (diced)
Salt (to taste)
white pepper or fine black pepper
For the toppings:
4 oz bacon (chopped)
2 tbsp butter (unsalted)
Sour Cream, to serve
Instructions
Step 1: Make the Pierogi Dough
(Remember, Pierogi dough is softer than pasta and less dense, so it will stay tender even after cooking)
In a large bowl, add flour, eggs, salt, oil and 1 1/2 cups of water.
Mix well (using hands or electric mixer) to create a dough,  if needed, you can add more water.
On a flat surface, start kneading the dough for 3 to 4 minutes until pliable and smooth.
Cover the dough with a plastic wrap and let it rest for 30 minutes to 1 hour.
Step 2: Make Potato Cheese Filling
Peel and cut the potatoes into cubes, about 2 inches. Boil in a large pot of water and some salt. Cook it until tender.
On the other pan, heat 2tbps of butter over a medium-low heat. Add the onions and cook it without browning.
Once the potatoes are ready, mash it in a bowl, add cheese and the cooked onions, together with the rest of the butter. Keep mashing until it becomes super smooth.
Step 3: Shape the Pierogi
Cut the dough in half, and cover the other half. Using half of the dough, dust it with flour and roll it out ⅛" thick into pasta maker. Repeat with the remaining dough.
Use a 3 inches diameter round cutter and cut out circles of dough.
Add 1 tbsp of the filling into the circled dough and fold it over to form a half circle and close the edges by pinching it.
Place them into the baking sheet. You can cook them now or freeze for later.
Step 4: Cooking
This step depends on the pasta maker you have, so adapt the techniques for what you have.
In a large skillet, heat 3 tbsp butter and add onions, bacon (optional), and cook on medium-low heat until soft. Take out the onions (and bacon) from the skillet and set aside.
Now, boil Pierogis on a salted water, take out when they float.
In a hot pan where you take out the onion, transfer the Pierogis and cook until brownish. This will take about 5 minutes. Add more butter if needed.
Step 5: Ready to serve!
Serve with the onions (and bacon) you set aside and a sour cream.
Bon appetit!
---
Tips
If you want, you can use a leftover mashed potatoes from your fridge.
Never use any flaked potatoes or an instant potatoes.
Dust the baking tray generously with flour when you make fresh Pierogi. Make sure that they are spaced well apart so they don't stick together.
There you have it! The only fresh Pierogi recipe you'll ever need. Pierogi is a dish you can truly make your own – whether you make your own variation, or you make something perfect for Christmas and other occasions. Why not try filling it with fruit such as Sweet Plum, Cherry, or Blueberry, and sprinkle sugar on top for a delicious, sweet Pierogi?
If you have any questions about making your own pasta, or want to share your experiences and top tips, feel free to leave a comment below, I'd love to hear from you!