My personal favourite manual pasta roller & cutter
After owning and using the same Marcato Atlas 150 for over nine years, I remain convinced that this machine is the best manual pasta maker on the market. Keeping it short, you won't regret buying the Marcato 150 if you are looking for a good quality traditional pasta roller that will last you a lifetime.
For more information, read the full review below – where I describe the reasons why I love this machine so much.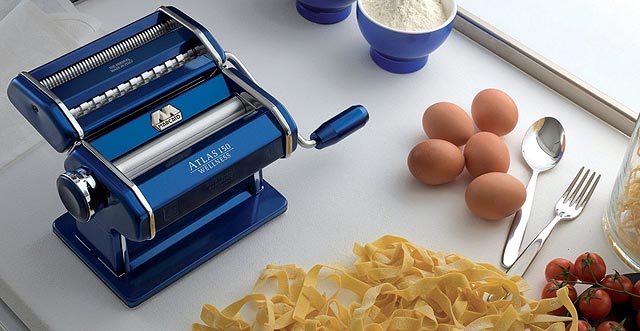 ---
#1 manual pasta roller & cutter
In my view, the best model on the market. Marcato machines are authentic, high quality and made in Italy. The best choice for beginners & advanced pasta lovers alike. Use this to make lasagne sheets, fettuccine and tagliolini straight out of the box. There are also a huge range of extra attachments available.
High-quality machine
Easy to use & maintain
Make fettuccine, lasagne, tagliolini and more
Lots of extra attachments available (including 3rd party tools)
Optional motor attachment
Other genuine Marcato attachments available include a ravioli, linguini, spaghetti, vermicelli and many more…
---
Is the Marcato Atlas 150 the perfect traditional roller pasta maker?
If you are looking for the best traditional manual pasta maker on the market, you can't go far wrong with the Marcato Atlas 150. Authentically Italian, Marcato has been designing and producing pasta rollers and other related equipment in Italy for over 80 years. 
The Marcato Atlas 150 comes with one standard attachment that lets you easily create three different types of pasta: fettuccine, tagliolini and perfectly flat dough sheets that can be used to create lasagna. However, these dough sheets also open a window of opportunities because you can easily use these to make your own ravioli and dozens of other pasta types.
10 year guarantee
Many pasta makers come with a one or two-year warranty, but Marcato pasta makers come with an incredible warranty period of 10 years. This 10-year warranty demonstrates the company commitment to their pasta makers. Marcato knows that their products are of high quality and are exceptionally durable.
Marcato Atlas 150 construction & materials
The Marcato Atlas 150 (sometimes also named the 'Wellness' model – they are the same thing) is made of high quality stainless steel and has anodized aluminium alloy rollers, ensuring that the roller does not leave any harmful particles (such as nickel and chromium) in your dough. The 'Wellness' part of this pasta maker means that it a healthy and safe choice for your family. Marcato actually has a patent on the Wellness feature, which ensures that this specific feature is only found in Marcato machines.
As kitchen appliances have evolved over the decades, and kitchens no longer look dull and boring, so have the Marcato pasta makers. Marcato has released the Atlas 150 Wellness series in a variety of colors, giving you the option to pick the perfect fit for your kitchen. The pasta maker is available in a total of nine beautiful colors, varying from green, red, black, copper-colored and obviously the standard yet beautiful stainless steel version. 
The beautiful and sturdy design of the pasta maker makes it a very durable machine, and the stainless steel body and rollers ensure that the pasta maker won't corrode easily. With proper care this pasta maker will last a lifetime and you and your family (and friends) can enjoy healthy and homemade pasta for decades.
In summary
– Comes with two free pasta maker attachments to make fettuccine and tagliolini, as well as flat pasta sheets
– Body made of durable stainless steel (or anodized aluminum in the case of the colored models)
– Rollers made of anodized aluminum, leaving no harmful particles in the dough
– Lasts a lifetime with good care
– Available in multiple colors
– Lots of extra attachments available
– Can be converted into an electric pasta maker with the optional motorized attachment
– 10 year warranty period
|   | Name | Summary | Where to buy |
| --- | --- | --- | --- |
| | Marcato Atlas 150 | The original and best manual pasta maker. Strong, durable, easy to use. | See Amazon Price |
Conclusion
I adore my Marcato Atlas 150 and I believe that it's a pasta maker that deserves a place in every household. If you are in for a manual pasta maker that is beautiful, will do the job perfectly, has support for a wide range of cutters and accessories AND will last you a lifetime, then the Marcato Atlas 150 is probably just what you are looking for.