---
Original KitchenAid 3-piece attachment set
This is the original KitchenAid set to make homemade pasta. It comes with 3 attachments to make spaghetti, fettuccine and lasagna sheets. Easy to use, no strength required and one of the fastest ways to make homemade pasta with traditional pasta rollers. Perfect choice for fresh pasta on the regular with little effort.
---
While there are quite a few electric pasta machines out there, you should definitely consider the KitchenAid Pasta Set if you own one of their stand mixers. Very easy to use, high quality and one of the fastest ways to make fresh pasta. Use the power of your KitchenAid to do most of the work – then easily switch over to the pasta attachments to make fresh pasta. Lasagna sheets, spaghetti, fettuccine or any shape you want with stamps, roller or by hand!
While most pasta makers are stand-alone appliances, KitchenAid naturally offers their own solution that takes away most of the 'heavy lifting' of making fresh pasta. Three separate attachments to make fettuccine, spaghetti and lasagne sheets.
The last one is the most important as it is the most versatile – an empty pasta canvas that you can unleash your creativity upon. Raviolini, tortellini, rigatoni.. a lot is possible when you start using stamps, cutters and your hands.
The perfect attachment(s) for your KitchenAid
The KitchenAid Pasta Roller and Cutter Set features the KitchenAid pasta roller attachment, as well as the spaghetti and fettuccine attachments. With these three attachments you will be able to create not just spaghetti, fettuccine and lasagna, but a lot more.
One of the main benefits is that you won't have to worry about rolling a hand crank. Once attached, the pasta rollers and cutters are motorized and you can focus on the on making the pasta sheets.
With a 'missing' hand crank, both of your hands are free to handle the pasta. While this is a definitely a godsend for beginners, if you've been making pasta for decades this does ease up the process as well.
As KitchenAid Stand Mixers are motorized, you won't have to do any of the hard work. This means that you won't have to do any cranking and you can let the motor of your KitchenAid do the work for you, together with the KitchenAid pasta roller.
Using the attachments
Longer pasta shapes, such as fettuccine and spaghetti, are preferably made with a pasta cutter. You don't want to be cutting spaghetti by hand, trust me. This set comes with two cutters for spaghetti and fettuccine and a roller for pasta sheets.
You don't need cutter attachments and can choose to buy the single pasta roller attachment. However, you'll be forced to make pasta shapes by hand. For a quick batch of fresh pasta, choosing the cutters is absolutely the way to go. Use the roller to make thin, smooth lasagna sheets and the cutters to make either fettuccine or spaghetti.
The pasta roller is the real king here. Obviously, lasagna is the easiest to make with this attachment, but you can do so much more. Use stamps to make perfect ravioli with your own choice of filling or make a batch of traditional handcrafted tortellini. Truly, the options are quite endless once you have a sheet of pasta. The KitchenAid attachment makes it very easy and you'll be able to turn your KitchenAid into an all-in-one stand mixer and pasta machine.
Multiple sets with different attachments are available, as you can also opt to only buy the roller attachment. Great if you want to make pasta shapes by hand or stamps.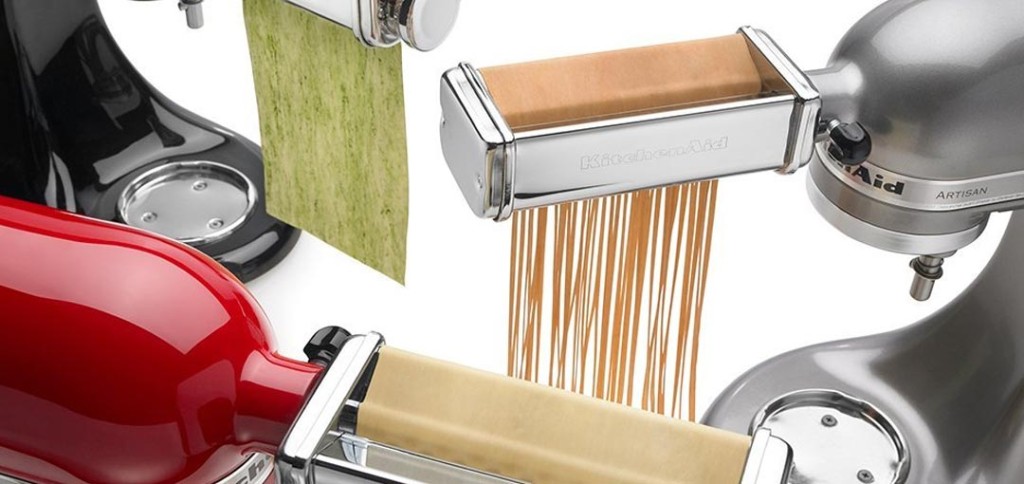 All three of these KitchenAid pasta attachments are made of stainless-steel, making them both sturdy and shiny. Not only will they look good on your KitchenAid Stand Mixer, but they will also be able to get used a lot.
As I own a KitchenAid Artisan owner myself, I like to keep my stand mixer clean. Lucky me, as this set does come with a cleaning brush, making it easy to clean all the flour off the attachments. It takes a few minutes, and any remaining dough you'll simply remove with a toothpick. As with all pasta makers, do not clean them with water. Doing so will result in ruining the attachments.
What did I like about the KitchenAid Pasta Attachment Set
Using these attachments with your KitchenAid Stand Mixer will make sure that you can focus on the pasta while the attachments and the motor inside of your KitchenAid will make sure the pasta gets through the pasta roller attachment.
Switching between the pasta roller attachment and the spaghetti/fettuccine attachment isn't a hassle at all. It will merely take you a few seconds to switch from the pasta roller to another attachment, making sure that you aren't wasting any time while making preparing the pasta.
Switching attachments on the KitchenAid is done almost as quickly as you roll the pasta through the pasta roller attachment. Perfect as it rolls effortlessly through the pasta roller.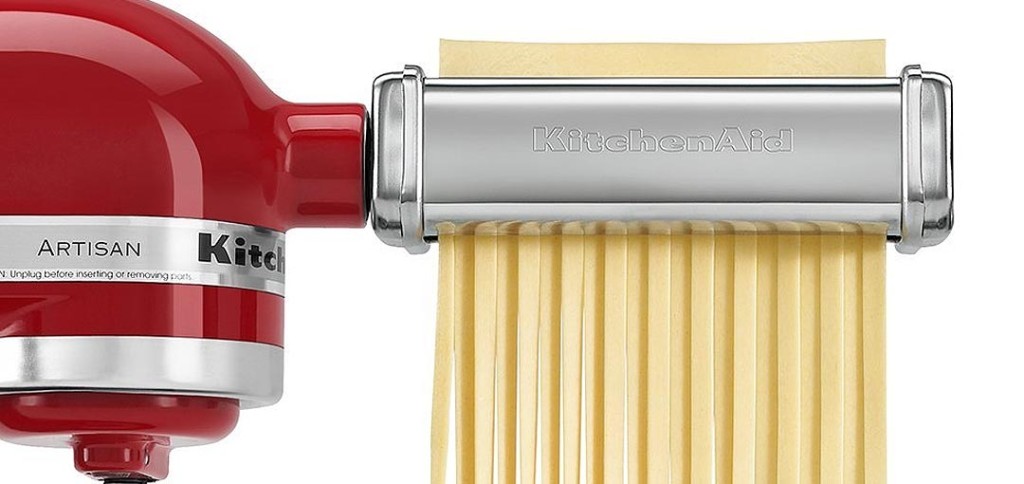 The KitchenAid pasta attachments are small and don't weigh a lot; combined they weigh a total of 7 pounds. This means that you can easily take them to a friend's house if they own a KitchenAid as well. While we are on this topic, the pasta maker attachment is compatible with any KitchenAid Stand Mixer.
Dislikes and pet peeves
This pasta set from KitchenAid does most things very well, but it comes at a higher price point than most machines. While you're getting a motorized solution, you're not buying motorized attachments. I'm very happy with the KitchenAid set and I still recommend it if you own a KitchenAid yourself.
If you have to choose between an electric pasta maker and these attachments and you already own a KitchenAid stand mixer and you love it: these attachments are perfect.
Taking the attachments with you to your friends or family's place isn't a problem at all. They're not that small, but hey, you won't have to take your KitchenAid machine with you. Wrong. If they don't own a KitchenAid themselves, you're probably carrying deadweight over to your friends house. A pet peeve, but worth mentioning if you're planning on having pasta parties.
Aesthetics. Yes, we did fall for it. We like how the KitchenAid mixers are designed, and the same goes for the pasta roller and cutter attachments. They are made of high quality metal and it doesn't make your KitchenAid look bulky at all.
Comparison with the the Philips Pasta Maker
This pasta attachment set works wonders and is a great addition to your KitchenAid. That being said, I'll have to compare it to the most popular electric equivalent, the Philips Pasta Maker.
The Philips is an all-in-one machine that mixes, kneads and extrudes the dough. You add the ingredients and let the machine do the work. This makes Philips a popular choice if you want to enjoy fresh pasta without the 'hassle'. The machine is mainly targeted at mass consumers and while its a great machine, for traditional pasta I always recommend traditional rollers and cutters.
With the KitchenAid attachments, you won't be buying yet another kitchen appliance to take up precious space in your kitchen. Besides that, artisan pasta is truly made by hand or rollers.
Want the quick and easy experience? Philips is a good alternative for an all-in-one solution. Read our Philips Pasta Maker review.
KitchenAid Pasta Attachment Set Review Final Verdict
KitchenAid makes quality products and their pasta attachments are no exception. Compared to many other well-known brands, their quality is equal or higher in many regards. While priced the same as many all-in-one electric pasta makers, this 3-piece attachment set is probably what you're looking for if you own a KitchenAid stand mixer.
Using any of the two rollers, both spaghetti and fettuccine don't take long to roll out, cut and prepare. If you want extruded pasta shapes, such as penne or macaroni, you'll have to do this by hand. Optionally you can choose to buy a Philips Pasta Maker instead, which can extrude multiple shapes and also works for spaghetto, fettuccine and lasagna.

f you own a KitchenAid Stand Mixer, these KitchenAid pasta attachments are a welcome addition to your KitchenAid. The attachments are great and you can't blame a bad batch of pasta on the machines.
If youre taking the attachments somewhere else, you'll have to be sure there is a KitchenAid available as they are of no use without the stand mixer. Having said that, I think anyone who is contemplating getting these attachments should be aware that they do need a stand mixer from KitchenAid to be able to use these pasta maker attachments. If you do, it's a great choice.
Ready to make pasta? The KitchenAid Pasta Roller & Cutter Set (available on Amazon) is available in multiple attachments sets.