One of my favourite authentic Italian dishes and one I make a lot is Ragu. This is a deep, rich, hearty (usually) meat sauce that is delicious when served over pasta. Ragu is also super easy to make vegan, and I explain how to do that in the 'Variations' section of the recipe below. The sauce is simply made by slowly simmering ground meat, vegetables, and tomatoes until the flavors come together and the sauce becomes rich and deep.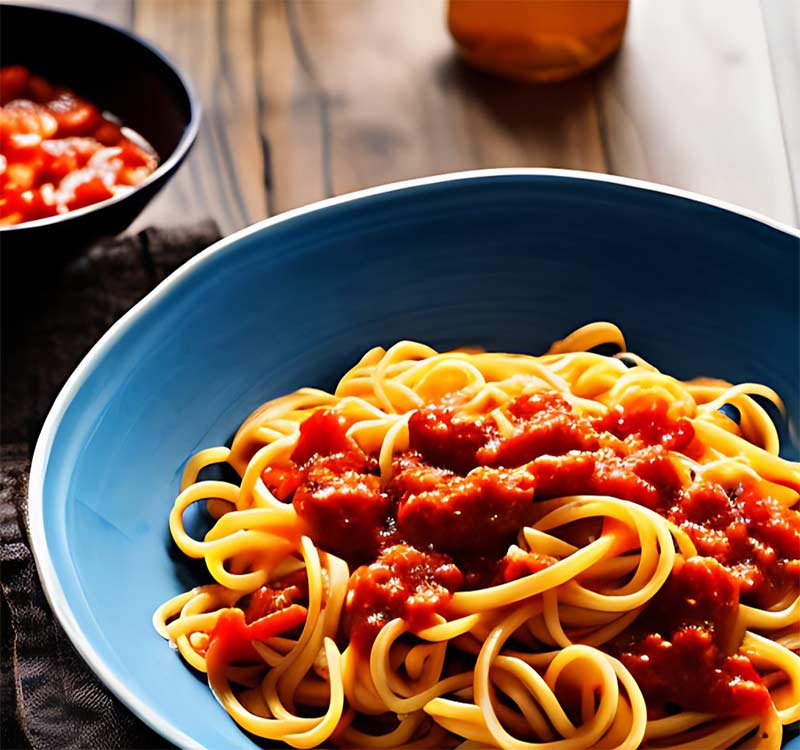 Here's my Ragu recipe:
Ingredients
2 tablespoons olive oil (extra virgin if you have it)
1 medium sized diced onion
2 cloves garlic, minced or finely chopped
1 pound ground beef (or pork if you prefer)
A healthy glug of red wine!
1 (14.5-ounce) can chopped tomatoes
1 cup chicken or beef broth / stock
1 tablespoon tomato paste / puree
1 teaspoon dried basil (or better still, a small handful of fresh basil if you can get it)
1 teaspoon dried oregano
1/2 teaspoon paprika
1/2 teaspoon sea salt
1/4 teaspoon ground black pepper
Instructions
Method
Heat the olive oil for a moment in a large saucepan or deep rimmed frying pan over medium heat. Add the onion and keep it moving until the onion is starting to become translucent, which is usually around 4 minutes.
Add the garlic, and keep things moving in the pan. Cook the garlic for only a minute (you don't want to burn it, because garlic tastes very bitter when burnt).
Add the ground meat to the pan and cook until it is browned, breaking it up into small pieces as it cooks.
Pour in the red wine and keep the heat on, scraping up any browned bits from the bottom of the pan and mixing everything together.
Add everything else in to the pan now. So that's the diced tomatoes, stock/broth, tomato paste, basil, oregano, salt, and pepper. Bring to the boil, then reduce the heat to the lowest you can go simmer for at least 1 hour, or up to 4 hours for a richer, more flavorful sauce. Be sure to check in on it regularly while cooking, adding hot water as necessary to stop your sauce from boiling dry.
Done! Simply pour your delicious ragu over pasta or use it as a base for other dishes such as lasagna or stuffed peppers. The ragu will keep in the refrigerator for up to 3 days or in the freezer for up to 3 months.
Variations and further ideas
For vegetarian ragu, switch out the ground meat for soy mince or you can use vegetables instead such as grated zucchini, diced bell peppers, mushrooms or eggplant. You'll also need to substitute the broth/stock for vegetable stock – a stock cube can be handy here.
You can also try adding some minced carrots and celery to the sauce for added flavor and nutrition.
Ragu is a wonderful sauce on it's own poured over pasta, or you can use it as an ingredient in more complex dishes such as lasagna. Try using it as a topping for baked potatoes or roasted vegetables. Yum!
Another thing I like to do is double or even triple quantity the recipe, making a big batch in a large pot. I'll then typically use a third as a Ragu over pasta and put the rest in the fridge or the freezer to be used in other pasta dishes at a later date.
If you've never made your own Ragu before, I really encourage you to give it a go. Like many authentic Italian pasta dishes, it's surprisingly easy to make and unsurprisingly delicious to eat!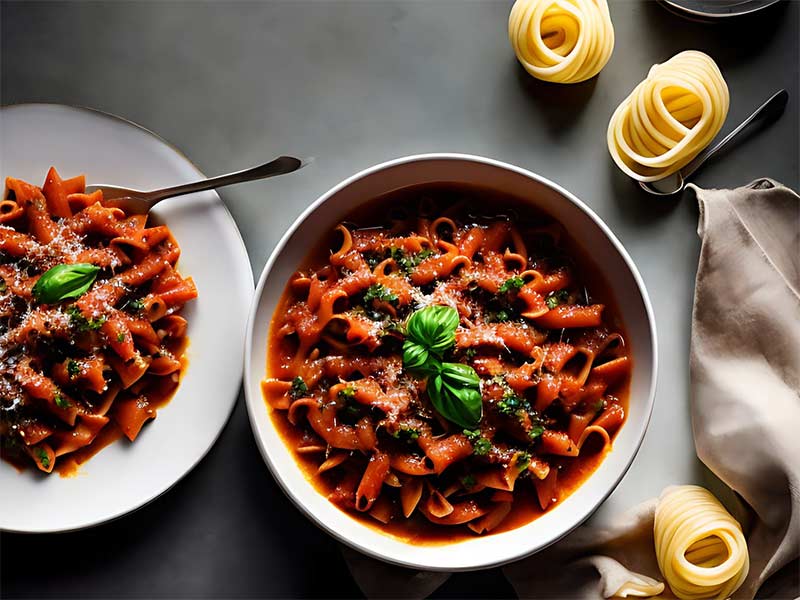 Ragu pasta is a classic Italian dish that has been enjoyed for generations. It's an easy, delicious meal that can be served as either a main course or side dish.
Serve up your ragu pasta hot with some freshly grated parmesan cheese over top and enjoy. This simple yet tasty recipe will definitely become a family favorite after just one bite – guaranteed. So next time you're looking for an easy dinner idea give Ragu Pasta Recipe try – you won't regret it!