Alright, here's what you need to know. Both the Marcato and Imperia are excellent pasta makers. I recommend both of them!
The Marcato Atlas 150 is the best choice if you plan on getting more and more comfortable with making homemade pasta over time. Only plan on making pasta every now and then? The Imperia 150 offers great quality, is often cheaper but misses the attachment upgrades Marcato offers.
The Marcato 150 Atlas is the winner
If you're looking for a high quality pasta maker, your eyes are probably set on either the Marcato Atlas 150 or the Imperia 150. Both are great picks, but the last 2 years the Marcato has become the clear winner. Why? The Marcato has a better build quality and has more attachments. With Imperia price-matching the more expensive Marcato, I see little reason to recommend the Imperia.
---
Modern twist on the best manual pasta maker – now electric
The best manual pasta maker that comes with two attachments and can make longer pasta such as spaghetti, fettuccine and lasagne sheets out of the box. High quality, made in Italy and available in multiple colors.
Both these machines are excellent pasta rollers, but there are some differences between them that you should know about. In this pasta roller comparison we will look at the differences, reviewing both what we like and dislike about these pasta makers. We will compare the Marcato Atlas versus the Imperia, and at the end of this review you will know which pasta roller suits you the best.
If you want to read the single reviews first on both pasta rollers, here is the link to the Marcato Atlas 150 pasta maker review and the CucinaPro Imperia 150 Pasta Roller review.
Comparison Marcato VS Imperia
Marcato Atlas 150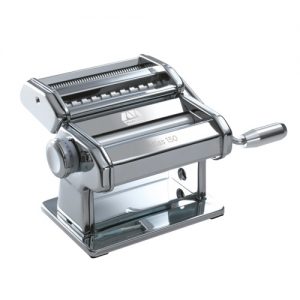 0.6 mm to 4.8mm rollers
9 different thickness settings
Motor attachment available
Fettuccine, spaghetti cutter & pasta sheet roller
17 total attachments available
Great build quality, very little complaints about
Available in 9 colors
Plastic hand crank
10 years warranty
Score 5/5
Imperia 150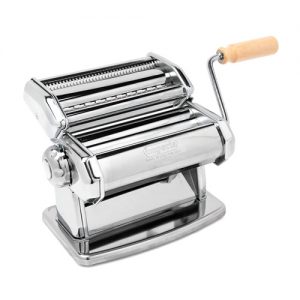 0.9mm to 4.3mm rollers
7 different thickness settings
Motor attachment available
Fettuccine, spaghetti cutter & pasta sheet roller
6 total attachments available
Good build quality, but some complaints about plastic parts
Available in one color
Wooden hand crank
1 year warranty
Score 4/5
---
Marcato and Imperia: comparing the brands
Both the Marcato Atlas 150 and the Imperia 150 are from an original and high quality pasta roller brand. Both manufacture their pasta rollers in Italy and have been at in since the early 1900's. That are quite some years worth of experience building, improving and designing these machines.
Roundup: Both companies know how to manufacture high quality pasta makers and they are going for the long run. This means that both companies will most likely still be around in a few years, so you don't need to worry about warranty if you would experience a problem with the pasta machines.
Comparing the rollers and cutters
Both models offer the same basic functionalities, there aren't many differences to spot when you put the two side by side.
Both pasta makers feature a 6-inch wide roller, which means that the maximum width of the dough sheets are 6 inches. This width is perfect for when you are making homemade pasta, as it will provide enough pasta for you and your family (and friends of course). That being said, the width of 6 inch is an almost universal standard on all consumer pasta machines.
Marcato does offer the Atlas 180 model, but none of the 150 attachment will work on this machine. It's nice for the bigger sheets, but I kinda hate missing out on using all my attachments that only work on the 150.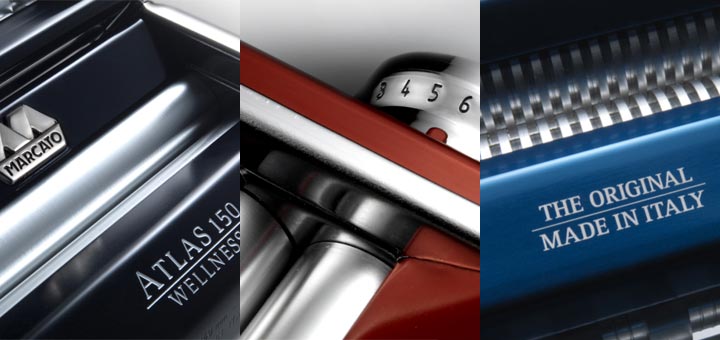 Both machines are made from chrome plated stainless steel, which is easy to dust off but isn't what you'd call water resistant. Stainless steel doesn't mean you can wash or clean it with water. Your machine will quickly start rusting, so please use a brush and a toothpick when cleaning either the Imperia or Marcato.
The Marcato Atlas 150 is equipped with Wellness rollers which are made of anodized aluminum. Anodized aluminum is twice as hard as stainless steel, making the chance of metal particles less likely with rollers made from anodized aluminum. As Marcato has patented this technology, there are no other pasta rollers that have this same feature. If you and your family try to avoid aluminum with cooking altogether,
Every high quality pasta roller should be able to roll pasta into various thicknesses, and every pasta maker has different thickness settings. While the Marcato has 9 different thickness settings, the Imperia has 7. This doesn't necessarily make the Marcato better, but the Marcato can make a bit thinner pasta which is nice for some types of pasta.
Roundup: If we look at the technical specifications of the two pasta machines, the Marcato is the better choice. The Wellness rollers that keep out any harmful metal out of your pasta is a big plus compared to the Imperia, as health is very important in our food.
The 9 different thickness settings of the Marcato are a plus, yes, but we wouldn't say that this is a deal breaker for the Imperia.
Extra pasta shape attachments for both machines
One of the most important aspects of any pasta maker are the attachments, not only what types of pasta they can make but also how well your homemade pasta is when using these attachments. If we compare the Marcato attachments with those of the Imperia, we don't spot any difference. With both machines you get two attachments: one for fettuccine and one for spaghetti (and vermicelli if you use a very small thickness during the rolling process).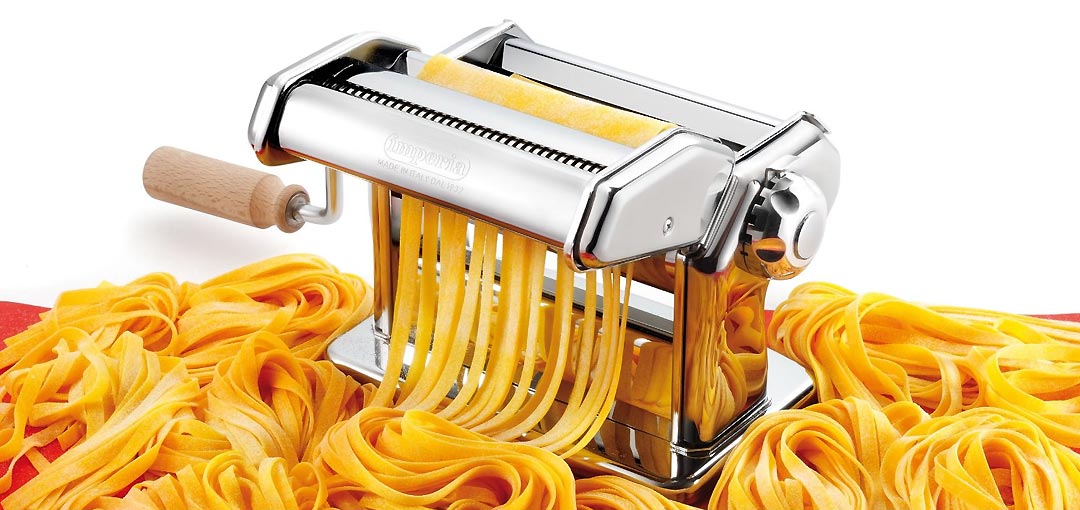 Testing the attachments with flour & dough
Without any big differences, it's time to compare the models and put them to the test. I chose to make an egg pasta and used a 50/50 with semolina and type 00 pasta flour. After you've decided for either the Marcato or Imperia, you should check read my guide on the best pasta flour to get you started.
Cutting in half the dough I was sure the dough used with both machines was the same. I just really wanted to see if there were any major differences between the cutters and rollers.
Using the rollers
Both the Imperia and Marcato had no problems with rolling the dough to my desired thickness. Marcato has 9 thickness settings and the Imperia uses 7. Not a big difference at all, you'll figure out your desired thickness soon enough. More or less isn't better, both pasta makers offer enough control.
The result was pretty much the same – pretty, thin sheets of pasta. Really, as long as your dough is great most pasta rollers do a decent job.
Using the cutters for spaghetti & fettuccine
Beside the roller and the two cutters, there are more attachments available for the two pasta makers. The Marcato has a total of 9 different attachments available for long types of pasta, and Imperia sells up to 6 different attachments for the Imperia.
Amazing. That is what we said when we looked at out fresh fettuccine and spaghetti. Not one single strand of either the spaghetti or fettuccine was sticking together! Both pasta machines did a perfect job, the pasta was great and there was no dough stuck in either roller or the cutters. Ofcourse, the pasta dough plays a huge role.
Roundup: Both machines rollers and cutters work great. Marcato offers a lot more available attachments, where Imperia's collection of attachments is a bit lacking. They are both perfect and make delicious homemade pasta. If you want to expand your collection of attachments, choose the Marcato.
Design
One thing can be said for sure: if we are looking at the design of the pasta rollers, the Marcato Atlas 150 Wellness would definitely be the winner of the two. Featuring a classic and high-class design, you get the feeling you are looking at a high quality product. From the beautiful beveled logo to the nine different colors that the Marcato is available in: it just looks and definitely feels right.
Nine different colors? That's right! With the ongoing success of the Marcato Atlas 150 series, Marcato decided to make the model available in nine different colors: copper, red, heavenly blue, gold, pink, black, blue, green and of course the standard chromed edition.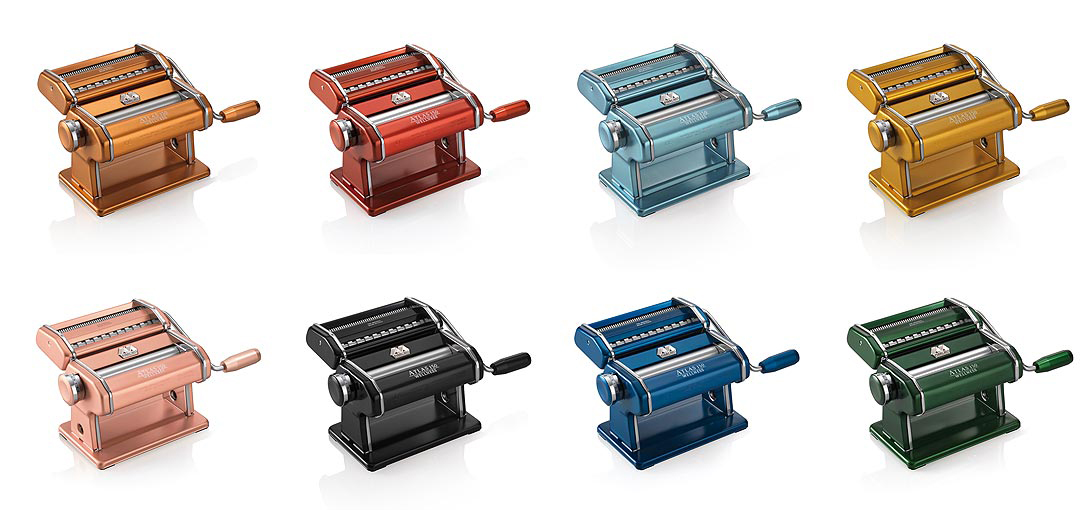 The Imperia on the other hand has a very basic design, as the Imperia looks very comparable with all the other pasta rollers out there on the market. The design doesn't reflect the quality of the machine and the Imperia definitely looks good in your kitchen. Especially the wooden handle is a lovely touch and it lovely on the shiny Imperia.
Roundup: If you want a premium design or want a pasta machine that is more colorful, the choice should be easy: Marcato has proven that pasta makers shouldn't be boring kitchen appliances and can actually look really fabulous. However, if you'd ask me, I'll tell you that the Marcato has a better design. Yeah, well, that's just, like, my opinion man.
Warranty
Oof, not the most thing fun to discuss, but not any less important. Marcato offers 10 years of warranty, where all Imperia models only come with a 1 year warranty. Since a pasta maker is a essentially a machine with gears and other mechanisms, they can break! t is important to look at the warranty.
The Imperia comes with a one-year manufacturer's warranty, and we are just going to be honest here: this isn't a very long period of time, especially compared to the 10 year warranty Marcato offers.
Marcato offers an almost unique period of warranty, a total of 10 years. The Marcato Atlas 150 Wellness has a standard warranty of 2 years, but Marcato adds another 8 years which sums up to a total amount of 10 years. This demonstrates the company's trust in the product, and it is definitely a good thought to have in the back of your head.
Roundup: Hands down, the Marcato is the absolute winner if we are comparing the warranty. With a total of 10 years versus the 1 year that the Imperia offers, it is almost a bizarre comparison.
Optional pasta motor attachment
The two pasta rollers can be turned into real motorized pasta machines with their respective motor attachments. The pasta machine motor for the Marcato and Imperia are both made of plastic and steel, which doesn't feel too sturdy, rather flimsy honestly. It still works after all these years, but I've always used it with caution.
That being said, the motor attachment works great on the Marcato Atlas 150 and my 180 model as well. It has two different speeds to choose from and it allows me to use both of my hands.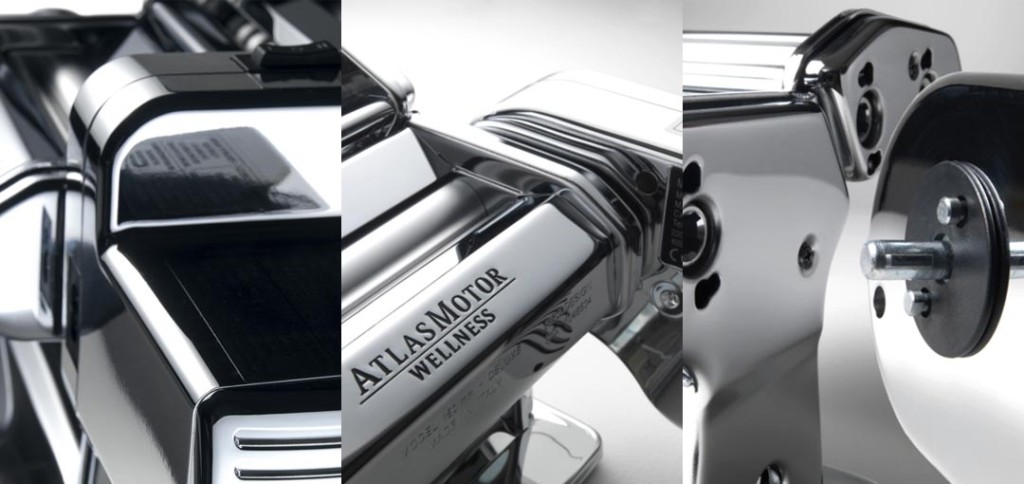 While we tested the motor attachment for the Marcato, I didn't test it for the Imperia. Comparing the specifications of the two attachments, there doesn't seem to be a difference, and I suspect that they both work just as well.
Roundup: Both the Marcato and the Imperia have their own first-party compatibile motors that can motorize the machine. You don't need a special model of either machine to use the motor.
Pricing of both machines
Okay, while prices used to fluctuate a lot with these machines, everything is different in 2020. Pasta makers are in high demand and this reflects in the price point. You'll be spending a couple of bucks extra if you are buying one in 2020, but the same goes for cheaper off-brand machines.
If you want a high quality machine, but would like to save where possible, the Imperia is a good choice. Just remember there are less attachments available. If you don't care about these attachments, the Imperia is a great machine that offers value for your money.
If you're looking for the best, just go for the Marcato. Plenty of options available when it comes to extra attachments. It's simply the best manual pasta maker available right now, and you'll pay a bit extra for that. Want to get the most out of your machine in the next couple pf years, buy Marcato.
Winner – Marcato Atlas 150 Wellness
Both are great models. With both machines at the same price point, I can't see a reason why to buy the Imperia at the moment. If the Imperia is priced lower, its a great choice as a budget high quality pasta maker.
If the Marcato and the Imperia are around the same price, I recommend that you buy the Marcato Atlas 150. Important, don't buy the 180 if you want to expand with more attachments.
With all the positive points of the Marcato, it definitely is the winner of the two. A total 10 years of warranty, a premium design and plenty of optional upgrades such at the attachments and even the motorized upgrade that works perfectly. You're free to read my review of the Marcato Atlas 150 motor attachment here.
Bottomline: The Marcato Atlas Wellness 150 is the best manual pasta maker out there. Versatile, expandable, high quality and a great warranty of 10 years. Make real homemade Italian pasta, it's quite easy with a pasta maker, but you'll know soon enough!
---
---
Great option, but less versatile
Imperia 150 Pasta Maker
Made in Italy and a great if you're looking for a real classic pasta roller. Currently a bit more expensive than the Marcato. A bit heavier and looks great with the wooden handle. Spaghetti, fettuccine and lasagna roller attachment in the box.
---
Video showing how to use the Marcato 150
If you want a good look at the Marcato, watch the video below to see how great it looks and how easy it is to operate.