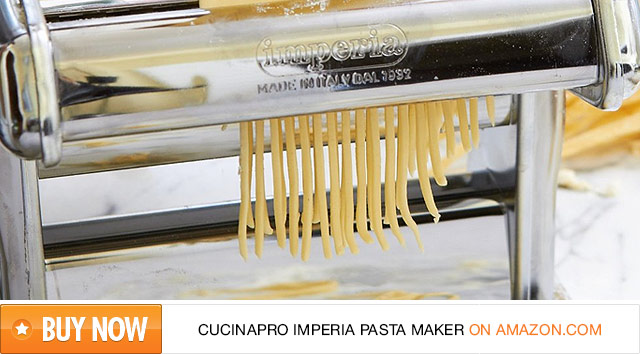 If you are looking for a pasta maker, you should definitely look at the country where the pasta maker is manufactured. If the machine is made in Italy, you are good to go – if it is made in China, you should look further. Luckily for us – and for you – the CucinaPro Imperia 150 pasta maker (Amazon) is manufactured in Italy. Read on, because this pasta maker has plenty to offer you. Our review covers both the positive and negative points of the CucinaPro.
This beautifully crafted and shiny chrome plated steel will surely help you make pasta a lot easier than using a rolling-pin, and thus will save you a lot of time. Making pasta with a pasta maker isn't just easier, it also takes a lot of stress away from your arms and shoulder from the rolling. Using the real wood grip handle to operate the machine, this will make the process of making pasta a more enjoyable task.
Comparable to most pasta makers the width of the rollers is 6 inch, which translates to 150mm if you use the metric system. Hence the name CucinaPro Imperia 150. The width of 6 inches is a perfect width for most pasta types. With the standard attachments that come with the CucinaPro Imperia 150 you will be able to make your own homemade spaghetti, fettucine and lasagna. As lasagna sheets are basically thin dough sheets, you will be able to create a lot more pasta types than just these three. The best part besides the fact that you can make lasagna with these sheets is that you can also make almost any kind of ravioli with these sheets. This makes the pasta roller attachment the best part of any classic pasta maker.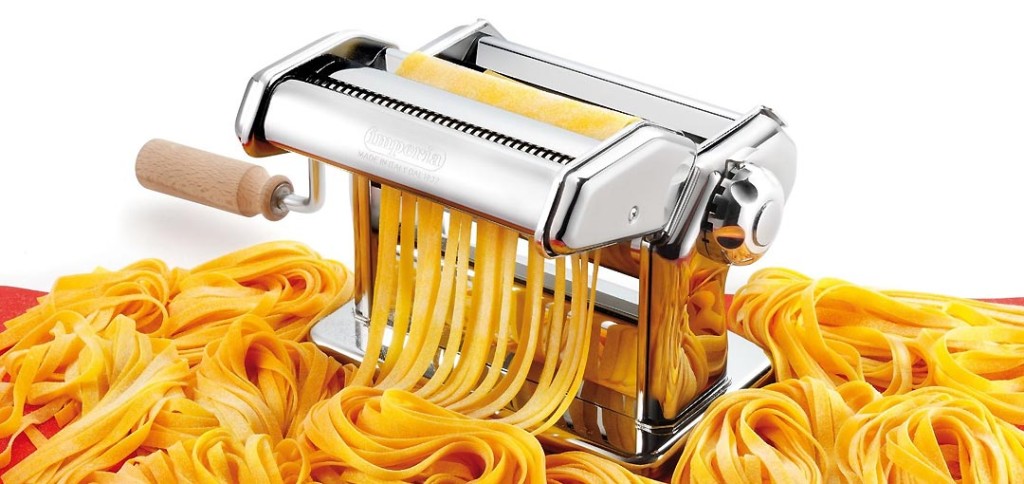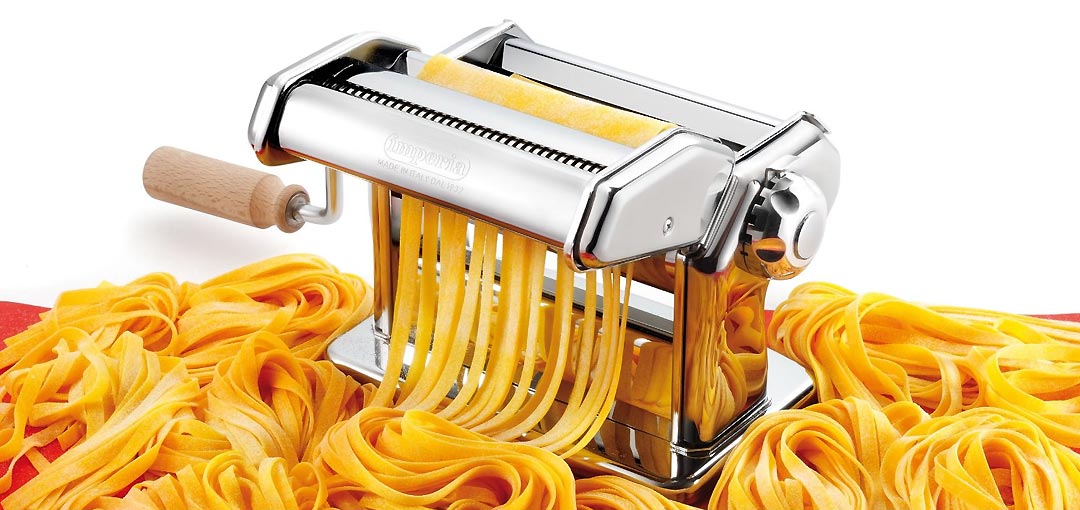 With a weight of eight pounds, the CucinaPro Imperia 150 has a good grip on the table and won't move itself easily. With the table clamp that gets delivered with the pasta maker, you can clamp it between on the table; making it even sturdier. However, some people might find eight pounds a bit too heavy to grab out of their cabinet.
What did I like about the CucinaPro Imperia 150
The CucinaPro Imperia 150 is worth its money as it is of better quality than similar pasta makers of the same or even higher price. The materials that are used to make the pasta maker are of good quality, if you take good care of this pasta maker it will just as shiny in 10 years as when you took it out of its box for the first time.
Another thing that we liked about this model is that it comes with enough attachments to make a variety of pasta types. In comparison to other pasta makers that only come with a lasagna roller, you will immediately be able to make at least three different types of pasta.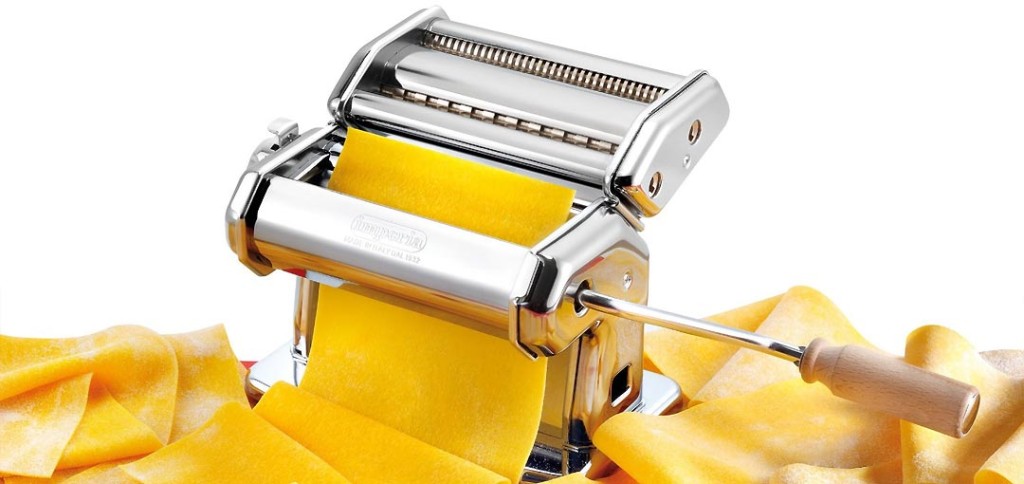 The pasta maker does come with a starter guide for pasta recipes and how to make the perfect dough. This will let you immediately get started with your CucinaPro Imperia 150, but if you want even more recipes or know how to make different kind of pasta dough: we got you covered.
The brand CucinaPro is a name that has proven itself over the years that it can make trustworthy pasta makers. While it hasn't been on the market as long as Marcato, it has shown that their pasta machines are of much higher quality than the cheap knock-offs that also get sold online.
What did I dislike
The weight of the CucinaPro Imperia 150 may be a problem for some people, with a weight of eight pounds it isn't the lightest pasta maker out there. That being said, the weight does definitely make the pasta maker have a better grip on the table.
As most pasta makers, it is not possible to wash the CucinaPro Imperia 150 with water. Luckily this won't be necessary if you make the perfect dough. If your dough isn't too wet, it won't get stuck in the pasta maker and all you have to do to clean your pasta maker is brush the flour off.
CucinaPro Imperia 150 Pasta Maker
The CucinaPro Imperia 150 Pasta Maker is available on Amazon.com, and you can find all the attachments it comes with there as well. The reviews there will also give you a better insight about the machine itself.
Something that did bother us during multiple uses of the CucinaPro Imperia 150 is that the hand crank tends to fall out of the pasta maker every now and then. This only happened to us once during the Marcato Atlas 150 Wellness review, so this occurrence did stand out during the review of the CucinaPro. If you want a full comparison between the Marcato Atlas and the CucinaPro Imperia, check out my comparison of the Marcato and the Imperia.
CucinaPro Imperia 150 Review Verdict
The CucinaPro Imperia 150 is a great pasta maker and is well worth its price tag as it shows that it definitely is a high-end manual pasta roller. The machine is well built and it feels sturdy when in use. The negative point about the weight certainly didn't weigh up against the positive points of this amazing pasta maker. It is easy to use and assemble, and will do a perfect job at making homemade pasta.
You can buy the CucinaPro Imperia 150 on Amazon.