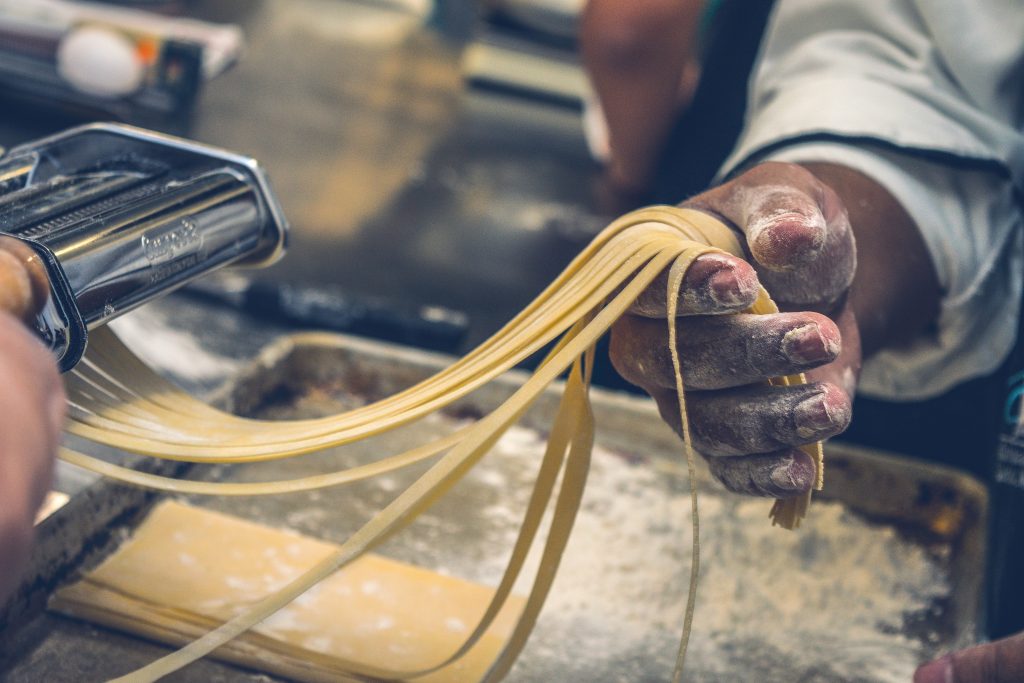 I love making Tagliatelle at home. It's one of my absolute favourites to make and I love using it with bolognese as an alternative to spaghetti.
Tagliatelle is a hugely popular variety of pasta and goes well with a wide range of different sauces as a fantastic main course for lunch or dinner. Tagliatelle is the broader, flatter cousin of spaghetti and fettuccine (typically about 6millimeters wide) and making fresh Tagliatelle at home with a pasta maker is easier than ever.
I'm going to show you how you can make delicious fresh Tagliatelle every time.
---
Fresh Tagliatelle Recipe
Ingredients
3 cups of pasta flour (This can be any flour you like – see our flour guides for advice)
11 egg yolks (large)
3 eggs (large)
1½ tsp salt
2 tbsp olive oil
Instructions
On a flat surface, mix the flours together and create a well, large enough to hold the eggs in the middle. Crack the eggs in a measuring cup and the oil before pouring into the well.

Whisk the eggs with a fork, be careful not to draw the flour in. Whisk until fluffy. Once it is all mixed well, gradually draw the flour in the center. Mix them until all the flour is blended well and you have a nice dough.

For this next step you can either mix by hand or use a stand mixer.
Combine the flour and salt in the mixer. Set at a low speed. Add the egg yolks and egg, then the olive oil and keep on mixing. Add the flour and increase to medium-low speed. Mix the dough for up to five minutes.

Using your hands, shape the dough into a ball. Begin kneading on a floured surface for 7-10 minutes. When your pasta dough is silky and smooth, flatten it into a disk before wrapping it with plastic and letting it rest in the fridge for 10 minutes.

After 10 minutes, take the dough out of the refrigerator and cut into four portions.

Now, set your pasta maker on its widest setting. Sprinkle flour on the tagliatelle dough before running it to your pasta maker and feed one portion at a time into the maker. While you are doing the first portion, you should plastic wrap the rest to avoid them getting dried up. Run the dough through the pasta maker twice, then fold it in half and run it again twice more.

Spread out the pasta to a floured surface and let it rest again for 15 minutes. This will help the pasta from sticking together and firm it up nicely.

Set your pasta maker to a thicker level and feed your pasta sheets through it again until you have sheets of dough about 1/16 inch wide (the last or second-to-last setting on the pasta maker).

Now, the pasta sheets are ready to be cut. Cut each sheet to 12-13 inches in length, then tightly roll from the small side to the short end before cutting into ⅜ inch wide ribbons.

Dust your sheet pan with flour and arrange your tagliatelle ribbons into nests by encircling pieces of the dough with your hands.

Now, we are ready to cook our fresh tagliatelle. Cook long pasta in boiling and salted water for 1 to 3 minutes. Drain and add the sauce.

Serve and enjoy!
Tips
You can prepare the pasta ahead of time and shape it out when you need it if you are in a hurry during the week – just slice the tagliatelle and assemble it into multiple nests then keep in a sealed jar until you're ready to begin using it.
If the dough seems too dry, don't add water to the mixture itself; wet your palms with water and proceed to mix by hand
If you have any questions about making your own pasta, or want to share your experiences and top tips, feel free to leave a comment below, I'd love to hear from you!