---
Modern twist on the best manual pasta maker – now electric
Electric version of the Marcato Atlas Wellness. Easy and fast to use as both hands are free, it's a great choice for making pasta more often. The motor can also be purchased separately & the Marcato can also be used as a traditional roller with the hand crank.
---
The Marcato Atlas 150 is a great machine on itself, as my review on the manual Marcato Atlas 150 clearly shows! This motor attachment is a great addition to your machine if you favor using both hands and the manual hand-crank just isn't your thing. This motorized attachment does make it easier for you to make pasta, but there is only one speed setting – fast enough for most, but not as fast after mastering homemade pasta by hand for a few months.
This review mainly focuses on the motor attachment for the Marcato. I'll also highlight the pros and cons of the Marcato Atlas 150 itself, as a lot of readers (hi!) are interested in the pasta machine as well.
Summary of the Marcato Atlas 150 Motor review
Likes and dislikes
There are quite few things to like about the motor attachment. I'll quickly summarize them below.
What I liked
No hand-cranking! The machine is fully motorized and electric
Free to use both hands to move the pasta around
The pasta is rolled and cut at a steady pace
Strong motor does the hard work for you
Interchangeable with the manual hand-crank
Works with all attachments, except the ravioli maker
My dislikes
Only one speed, which is perfect for most (but no for the pro's)
Plastic exterior feels a bit cheap
Only works on the Marcato 150 and 180 models
If you want the best of both worlds, electric and manual, then this pasta maker should be on the top of your list. Read my full review below or check out the the reviews on Amazon.com. Below I'll get into the benefits of the machine and whether Marcato's motor attachment is the right choice for you.
The Marcato motor works wonders
The versatile Marcato Atlas Wellness can be bought in a bundle with that comes together with the motor attachment, so there is no need for you to use the hand crank anymore. You can center all your attention on the dough and the pasta itself, and you can let the machine do the rest of the work for you.
The motorized attachment for your Marcato is perfect for those times when you feel like making pasta, but you don't want to put too much effort into it. You can just let the 120 volt motorized attachment do the work and you will have perfect homemade pasta for you and your family in no time. The motor attachment turns the pasta maker into the perfect tool for those that want to make pasta without the effort.
If you are planning on making a lot of pasta, more than three or four times a week, the motorized Marcato Atlas Wellness is a gift from heaven. Using a hand crank is fine if you plan on making pasta every now and then, but this can get tiring if you make pasta nearly every day. That being said, using the hand crank every now and then definitely isn't a punishment, but the fact that you can turn the Marcato Atlas into a motorized pasta machine almost instantly is a nice thought.
Using the motor attachment – ease of use
However, not every situation is perfect for the motorized attachment as it needs to be connected to a power source in order to work. If it so happens to be that you don't have a power source nearby, it is good know that the Marcato Atlas not only comes with the motorized attachment but also with a standard hand crank. This way you will always be able to create pasta, no matter where you are. Perfect for whenever you are visiting friends or family that don't have a power source just close enough for you to plug the motor attachment in.
The motorized Marcato Atlas Wellness comes with a pasta maker attachments, allowing you to immediately start with making your own homemade pasta. With the attachment you can start making three different types of pasta: fettuccine, spaghetti and lasagna sheets.
Three types of pasta may not sound like a lot, but there are a lot of great things you can do with those lasagna sheets. You can make a lot of different types of ravioli, and with pasta cutter stamps you will be able to play with the shape of your pasta as well.
Marcato Wellness series
As the name of the pasta maker says, it is from the 'Wellness' line of Marcato. This means that the pasta maker won't leave any harmful particles in your dough, meaning that you won't be serving your friends and family anything bad. That is always a good thing, isn't it? The Wellness part of the name indicates something very important, as it stands for safety and health. The rollers and cutters in the Marcato Atlas Wellness won't leave any harmful metal particles in your dough and pasta.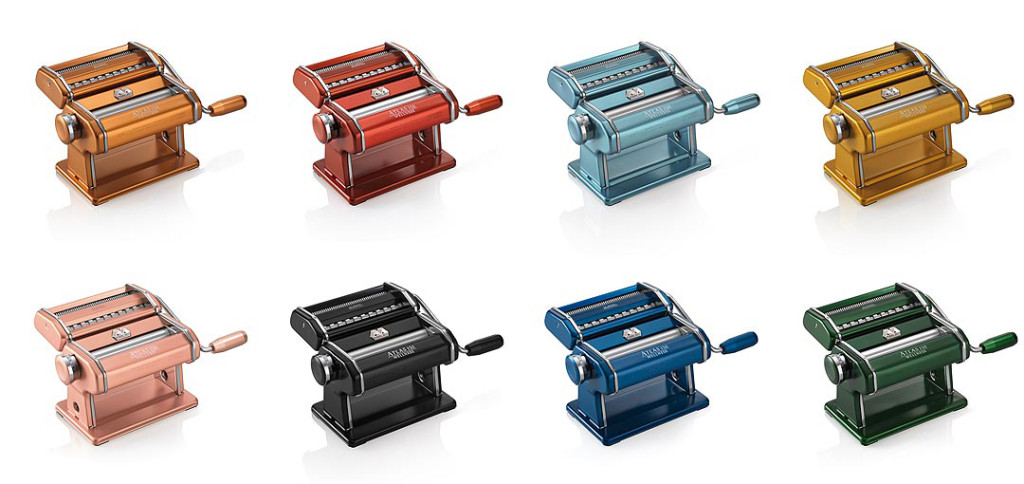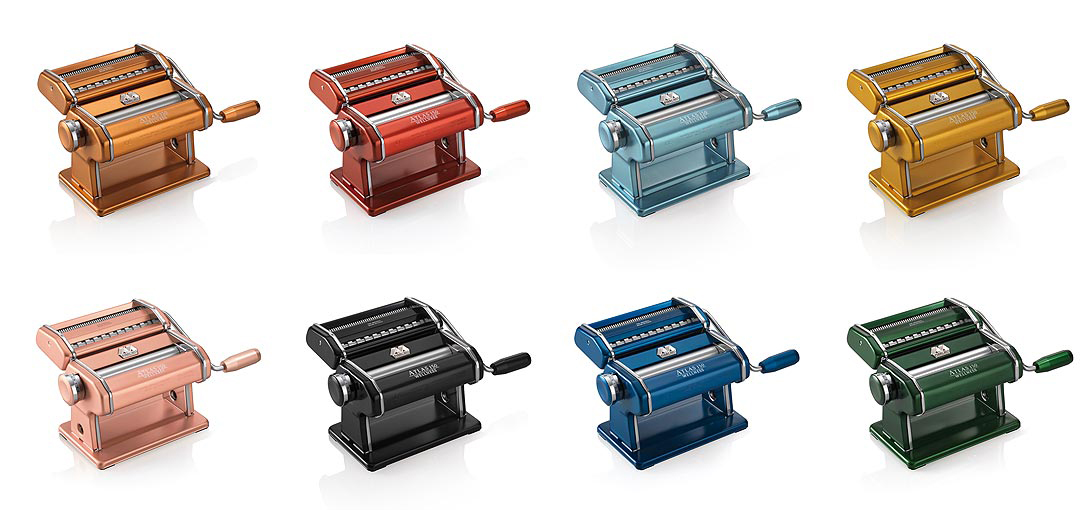 The rollers are made from anodized aluminium, and this ensures you that there won't be any harmful particles such as chromium and nickel in your dough.
The technical specifications of the Marcato Atlas Wellness 150 are mostly in line with the other pasta makers from Marcato and other brands. The Marcato pasta maker has an adjustment knob so you can easily switch between the 9 different thicknesses which is necessary for getting the perfect thickness of pasta. The motor attachment that comes with the Marcato runs on 120 volt, and will help you make pasta in a blink of an eye (okay, not that fast but definitely faster than their manual counterpart).
What did I like about the Marcato Motor Attachment?
The motorized attachment of the Marcato can make certain situations a lot less complex, especially when you are making pasta on your own. Operating a manual pasta roller can come of as complicated to beginners, and you won't have this problem with the motor attachment. During my review I had a couple friends over that have never made pasta, and they told me that they loved how easily they made pasta with the Marcato motor. However, after practicing a few times with the manual Marcato it can go effortlessly as well. That being said, the motor attachment for the Marcato will ensure a more relaxed pasta making experience.
As mentioned before, knowing that this Marcato Atlas is from the Wellness family gave us some peace of mind. Healthy food is one of the most important aspects of our daily lives, and also a reason why many people are getting themselves a pasta maker. While I do trust other bigger brands such as CucinaPro, there is a reason I avoid buying cheap pasta makers: they are made from cheap materials and tend to break a lot quicker. You get what you pay for in the end.
While the Marcato Atlas Wellness Motorized is mainly an electric pasta maker, Marcato gives you everything that you need to use the pasta maker manually. You get a hand crank and a table clamp so you can attach it to the table. While on this topic, what we really like about the motorized attachment is that you don't have to clamp the pasta maker to the table. This means that you can place the pasta maker everywhere you want.
What did I dislike about the attachment?
The Marcato Atlas Wellness Motorized is entirely made from nickel-plated steel and chrome, and that is something that we expect of every pasta maker. However, the electric motor attachment is made from chrome plastic and this makes the electric motor attachment less sturdy than the machine itself. While the motorized attachment is still strong enough, we would've liked it more if it was made from metal.
The motorized attachment has only one speed and while this speed is fast enough to make pasta at a steady pasta, using the hand crank can speed up the process. It would have been nice to see the attachment have multiple speeds, since making pasta for more than 10 persons can consume quite some time with the motorized attachment. However, for a family of five you can have pasta ready in a very short period of time.
The speed is perfect for creating pasta for 4 to 6 people, you can have your homemade pasta ready in less than 30 minutes.
While the speed works great for making pasta, sometimes I wish I could notch it up a little; especially after a few sessions when you have more experience with the motorized attachment.
If you want to use the pasta maker with the motorized attachment, you will need a power source. Luckily the pasta maker does come with a hand crank, so you will always be able to use the pasta maker even if you aren't in reach of a power source.
Marcato Motor Attachment Review Verdict
We have expressed our love for the Marcato Atlas Wellness series before, and the same goes for the motorized version this series. If you are looking for a versatile machine that is both manual and electric, than it is an easy choice. The Marcato Atlas Wellness Motorized has some basic flaws that can be easily overlooked, making it one of the best electric pasta makers out there.
You can buy the Marcato Atlas Motor Attachment on Amazon. They sell the attachment as well as a bundled set that includes that Marcato Atlas Wellness.
Marcato Atlas 150 with Motor Attachment
The Marcato Motor set is available on Amazon.com, and so is the stand alone motor if you already own the Marcato. The reviews there will also give you a better insight about the machine itself.