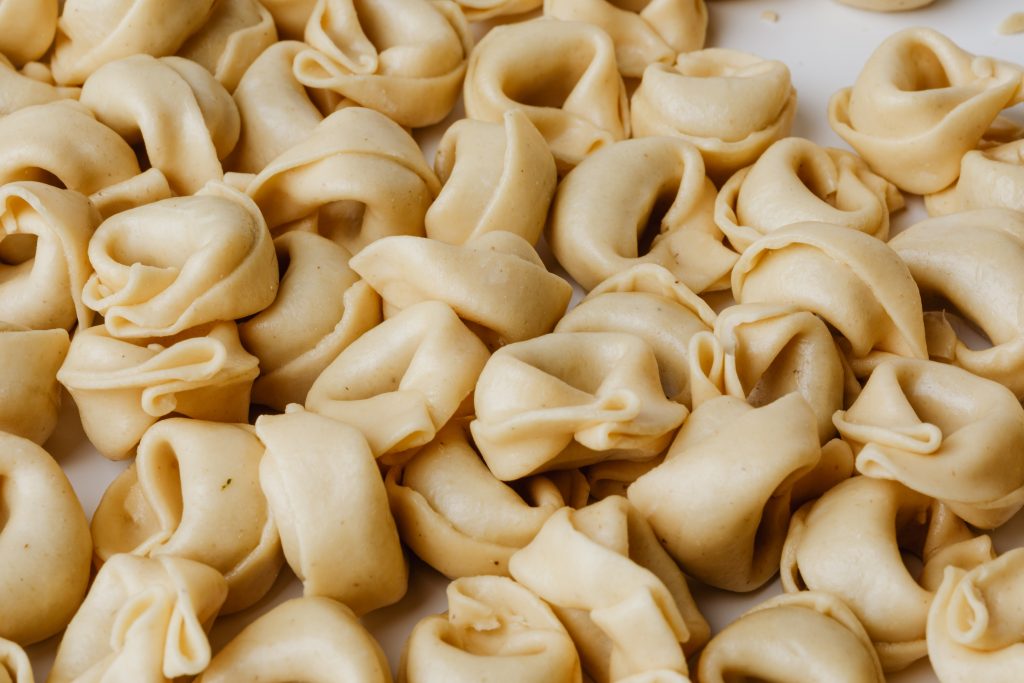 Nothing beats some homemade, delicious, fresh tortellini. If you have a craving for this beautiful Italian pasta and have some time to do it, it's worth making at home! You can do it and this article will help you make it happen.
Tortellini pasta is from the Italian region of Emilia, particularly Modena and Bologna. It is traditionally stuffed with a combination of different meats (mortadella, raw prosciutto and pork loin), egg, Parmigiano cheese and nutmeg and served in a capon broth (brodo di cappone).
Italians also love serving Tortellini with toppings such as tomato or pesto sauce, a cream sauce, or even a cheese sauce. You can also create a cheese-stuffed version!
To me, making my own pasta can be incredibly therapeutic. What is more rewarding and comforting than enjoying a mouthful of fresh tortellini that you've made yourself with a pasta maker? It is not only satisfying, but also easy and fun. So, let's jump in and get started!
---
Traditional Fresh Tortellini Recipe
Ingredients
For the Pasta:
4 Eggs
400 grams 00 flour (See our Flour guide for advice)
For the Filling:
1 egg
35g of butter
75g veal
150g of pork loin
70g of turkey breast
50g Prosciutto Crudo
75g of chopped mortadella
50g of grated Parmigiano cheese
1 pinch nutmeg
Salt and pepper to taste
Instructions
Step 1: Create the pasta dough
We only need eggs and flour here. No oil and no water. Mix and knead the dough until consistent and elastic, then set aside and let it rest for an hour.
Step 2: Create the Filling
Melt the butter in the saucepan and the meat (pork, turkey and veal). Cooked them until golden brown.
Add mortadella and let it cook for a couple of minutes. Cool it down before grinding until it becomes smooth and soft paste.
Add egg, Parmigiano cheese, salt, pepper and nutmeg and mix
Leave to one side for later
Step 3: Make the tortellini
Bring out your pasta maker and roll your dough into thin (less than a millimeter) sheets. Cut it into squares (4cm).
Step 4: Shape and seal the tortellini
Add 1 teaspoon of filling to each square.
To shape your tortellini, hold the pasta square and fold in diagonally in half. The two corners should be joining together, use your finger and press on the edge to seal it.
Wrap the other two ends, one should be on top of the other. Use the tip of your middle finger and press them together to seal it. By doing this, you are getting the ring shape.
Place your sealed tortellini on a dusted tray or dish towel. Let it rest for about an hour and it is ready to cook.
Step 5: Cook
Cook the shaped tortellini in boiling water with salt for about 3 minutes or until they float.
Keep an eye on your pasta to avoid overcooking it.
Drain and serve
Bon appetit!
---
Tips
You can freeze tortellini for days, so you can make them in advance and freeze it until it's needed. (When frozen, tortellini should be cooked a minute longer or two.)
Never over-stuff your pasta, fill it with just enough. If you over-stuff it, it will be very difficult to seal and can cause them to burst. Usually 1 teaspoon of filling is ideal.
Always cover your pasta to stop it from drying out. Dry pasta is prone to tearing and difficult to work with. Always keep the shaped tortellini covered with a clean dish towel or plastic wrap, same goes with the remaining rolled out pasta sheets and dough.
Use a generous amount of flour. Although the fresh tortellini dries faster, it also loves to stick to one another and to your tray. Therefore you need to dust a good amount of flour to your tortellini and tray.
If this is your first time making Tortellini, give yourself a plenty of time. It is not hard but as a first timer, it can take more time than usual. Or invite friends, family or children to help! It is always more fun to make food with your love ones.
Fresh Tortellini is not only rich in flavor but also in history. Although people say tortellini is from Bologna and Modena, the true origins of tortellini are actually shrouded in mystery. There is a tale about a marquess who visited an Inn in Castelfranco Emilia town, near Modena in the 12th century. The innkeeper, mesmerized by her beauty, was inspired to form a new pasta shape. According to the tale, the pasta shape is like the marquess' navel and eventually the innkeeper filled the new shape with pieces of meat.
However, others claim that it was Venus, the goddess herself, who visited instead of a marquess. In the 19th century, Giuseppe Ceri wrote a poem about the story of tortellini where Venus and other Latin divinities are protagonists. He kept most of the location and events the same as the legend though.
In the 17th century, Tortellini was traditionally served for Christmas and it is called "Tortellorum ad Natale"
There you go! Now you've not only learned how to make tortellini, but you will also have some interesting stories to share at the table when you serve it! Enjoy!
If you have any questions about making your own pasta, or want to share your experiences and top tips, feel free to leave a comment below, I'd love to hear from you!