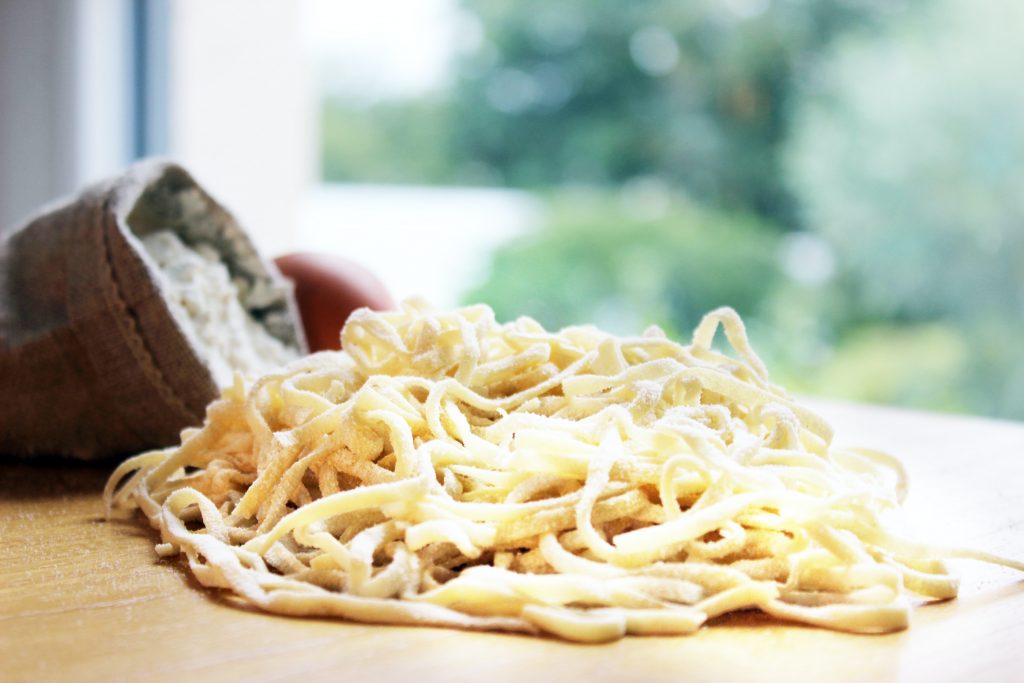 What is so special about fresh long pasta? Well, when you compare fresh pasta to the dried stuff you can buy in your grocery store, it's like a whole other world of flavour and texture. Fresh pasta is divine in creamy sauces like carbonara and the fresh ingredients make it taste so unique and tender.
We've become so used to buying boxes of premade pasta for the convenience and ease, that we wonder why anyone bothered making fresh pasta at all? The main difference is that dried pasta has very different ingredients that lend to its long shelf life, whereas fresh pasta has a very simple selection of ingredients that wouldn't last very long sitting on the shelf or in the fridge. The clue is in the name, it's designed to be made fresh and eaten fresh.
These days it's easier than ever to make fresh pasta. With the help of a pasta maker, it won't take too much time to make, plus fresh pasta's cooking time is considerably faster than the dried variety. Today I'm going to show you how you can make your own fresh long pasta by hand with a pasta maker.
---
What types of Long Pasta are there?
There are lots of different varieties of long pasta which differ in shape, thickness, and width. Before we begin with the recipes and techniques, let's go through some of the common types of long pasta you can make:
Capellini (Angel's Hair Pasta) – a very thin variety of pasta that has been popular in Italy since at least the 14th Century
Bucatini – thicker than traditional spaghetti, Bucatini is a long, round shape with a hole running through the center. Popular in the Lazio region of Italy
Fettuccine – Popular in Roman and Tuscan cuisine, Fettuccini is shaped in a flat, thick ribbon
Spaghetti – The most common type of pasta and one you'll all be familiar with. Spaghetti's thickness is somewhere between Bucatini and Angel's Hair
Linguine – Meaning 'little tongues' Linguine is a flat noodle that is less wide than fettuccine
Pappardelle – The widest pasta on this list, Pappardelle is shaped in a wide, flat ribbon
Tagliatelle – Like Fettuccine, but a bit thicker. (Check out our guide to making tagliatelle here)
Vermicelli – a traditional style of pasta similar to spaghetti, but a bit thinner
Now we know the different types of long pasta, we can jump into how to make it!
---
The Recipe: How to create Fresh Long Pasta
The secret in making a great fresh pasta is to make sure that your dough is smooth and pliable. The feel of your dough should be like a soft putty when you have finished kneading it. You know you've done it wrong if it cracks easily. After that, using a pasta maker is super simple and you'll be creating shapes in no time.
Ingredients
3 cups of pasta flour + extra for dusting (Check out our guide to the best flours here)
3 eggs (large)
11 egg yolks
1 ½ tsp salt
2 tsp olive oil
Instructions
On a flat surface, mix the flours together and create a well, large enough to hold the eggs in the middle. Crack the eggs in a measuring cup and the oil before pouring into the well.

Whisk the eggs with a fork, be careful not to draw the flour in. Whisk until fluffy. Once it is all mixed well, gradually draw the flour in the center. Mix them until all the flour is blended well and you have a nice dough.

You can mix by hand or you can use a stand mixer. Combine the flour and salt in the mixer. Set at a low speed. Add the egg yolks and egg, then the olive oil and keep on mixing. Add the flour and increase to medium-low speed. Mix the dough for up to five minutes.

Using your hands, shape the dough into a ball. Begin kneading on a floured surface for 7-10 minutes. When your pasta dough is silky and smooth, flatten it into a disk before wrapping it with plastic and letting it rest in the fridge for 10 minutes.

After 10 minutes, take the dough out of the refrigerator and cut into four portions.

Now, set your pasta maker on its widest setting. Sprinkle flour on the dough before running it to your pasta maker and feed one portion at a time into the maker. While you are doing the first portion, you should plastic wrap the rest to avoid them getting dried up. Run the dough through the pasta maker twice, then fold it in half and run it again twice more.

Spread out the pasta to a floured surface and let it rest again for 15 minutes. This will help the pasta from sticking together and firms it up nicely.

Set your pasta maker to a thicker level and feed your long pasta sheets through it again. Continue doing that and adjust the roller to your preferred thickness depending on the pasta variety you're making. If the pasta sheet gets too long, you can cut it into separate sheets 12-14 inches long. Roll until it is thin enough for you, just be careful not to tear and stretch it.

Now, the pasta sheets are ready to be cut. Attach the noodle cutting attachment to the pasta maker to cut and shape your pasta. Feed the thin rolled pasta sheet into the cutting attachment, then catch the cut noodles with your other hand. Repeat the process with the rest of the dough.

Dust your sheet pan with flour and scatter the finished noodles to avoid sticking together.

Now, we are ready to cook our fresh pasta. Cook long pasta in boiling and salted water for one to three minutes. The cooking time depends on the thickness of the pasta and the type of pasta you've chosen to do. Drain and add the sauce.

Serve and enjoy!
Top Tips
Different pasta makers have different attachments and varying sizes for each setting, make sure to read the manual carefully before you use it and try out different settings to work out which is best for you
Check out the more advanced pasta makers. There are all-in-one pasta makers where it only takes you a few minutes to create different types of pasta. It is automatic, you just add all the ingredients and let the machine do the work, kneading and rolling the dough for you. All you have to do is to cut your long pasta sheets as they come out.
Conclusion
Fresh pasta is forgiving and can be created in so many different methods, flavors and textures. Get creative and add a dash of your personality in creating your own fresh long pasta by adding extra ingredients and flavours. At the end of the day, it is worth all the effort and you'll wonder why you ever went without it. With this guide, you can now go and try all the different varieties of long pasta and most of all, don't forget to have fun!
If you have any questions about making your own pasta, or want to share your experiences and top tips, feel free to leave a comment below, I'd love to hear from you!