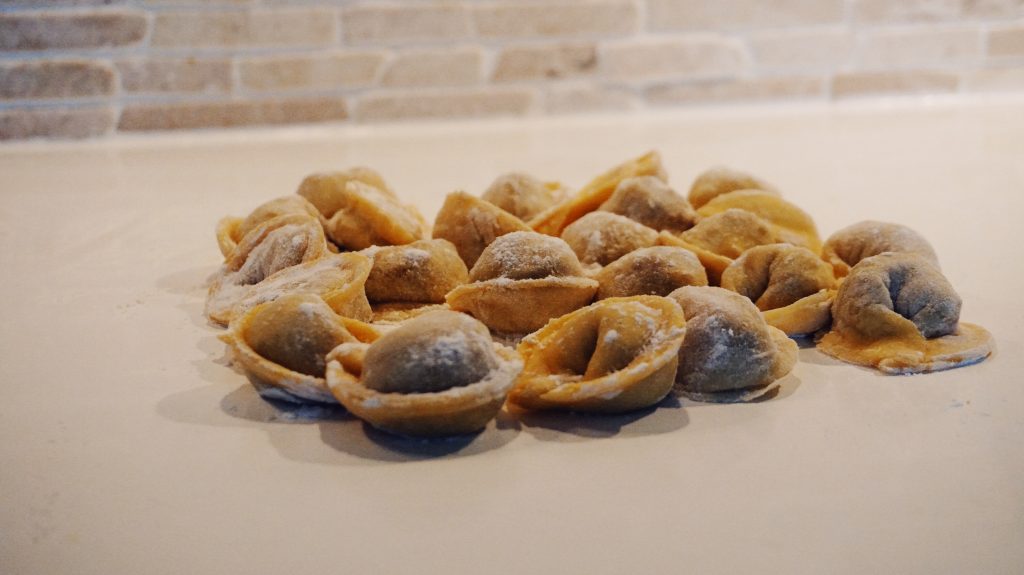 Cappelletti is a delicious stuffed fresh pasta from the region of Emilia-Romagna. In the Middle Ages, it was a luxury food for aristocrats, but with this recipe we can all enjoy it today!
Cappelletti means "little hats" because that is what its' shape looks like. You can actually do this, not only out of circles, but also squares of dough. It might change the shape a little, but the process of folding is similar. Traditionally, this fresh pasta is served in a meat broth, however you can serve it with a meat sauce, with walnut and a carefully heated heavy cream, or just simply toss it in some browned butter with fresh sage. The options are endless!
---
Fresh Cappelletti Pasta Recipe
This recipe takes about 60 minutes to prepare with just 5 minutes cooking time and makes 48 to 60 Cappelletti which can serve around 6 people.
Ingredients
For the pasta:
3 eggs (large)
2 1/4 cups flour (all-purpose)
1 pinch of salt
For the filling:
4 ounces lean pork or 1/2 chicken breast
1 egg yolk (large)
1 egg (large)
1 tbsp butter (unsalted)
1/2 cup Parmigiano-Reggiano cheese (freshly grated)
1 cup fresh ricotta cheese
1 pinch nutmeg (freshly grated)
1 pinch lemon zest (optional)
1 pinch black pepper (freshly ground)
1 pinch salt
Instructions
Step 1: Make the Dough
Prepare all the ingredients, then start making a dough.
Pour the flour in a clean working are and make a hole in the middle.
Crack the eggs into the center and add some salt.
Whisk the eggs and slowly add the flour until they are mixed thoroughly.
Step 2: Make Cappelletti sheets
Knead the dough first for 15 minutes or until elastic, smooth and firm. Cut the dough into two and cover the other dough, while working on the other one.
Flatten the dough, dust with flour and roll over through the pasta maker, adjust the setting, dust the dough and roll over to the pasta maker, keep on doing that and adjusting the setting until the sheet is almost transparent. We need it thin because it will double the thickness while cooking.
Step 3: Make the Filling
Melt the butter into a small saucepan and sauté the chicken. Cool it down and cut into chunks.
Use a blender or food processor for combining all the filling ingredients (ricotta cheese, nutmeg, whole egg, egg yolk, Parmigiano-Reggiano, lemon zest, salt and pepper, and the sautéed chicken.
Tip: Use 2 yolks and leave out the egg white if the ricotta is very soft. If your mixture on the other hand is too stiff, you can add an extra egg yolk.
Step 4: Make the Cappelletti
It's time to form those little hats. Flour the surface, take out your round cookie cutter and stamp on Cappelletti thin pasta sheets to cut out a 2" diameter circles of dough.
Put a teaspoon of filling into the middle of the circle dough and with the use of your fingertip, moist the edges with a little to seal.
Fold the circle into a half circle dough and press down the tips to close it.
Pull the two ends together, slightly overlapping and press the end gently.
Turn the triangle ends upwards. Repeat for the rest of the Cappelletti.
Step 5: Cook the Fresh Cappelletti
Cook the Fresh Cappelletti in boiling water with salt, or in a broth, for about 3 and a half minutes.
Drain and serve
You can serve Fresh Cappelletti in a bowl topped with broth and sprinkle with Parmigiano Reggiano or you can also boil it in water and serve with meat sauce and with a bit of salt, pepper and olive oil.
Bon appetit!
---
Did you know that in some regions Cappelletti is a famous dish for Christmas Day? Whether its eating together or cooking together, the preparation of fresh Cappelletti is a whole lot of fun for the entire family. Families look forward to this activity once a year and pass the tradition to their children. Food is always tastier when you know that is a labor of love.
If you have any questions about making your own pasta, or want to share your experiences and top tips, feel free to leave a comment below, I'd love to hear from you!