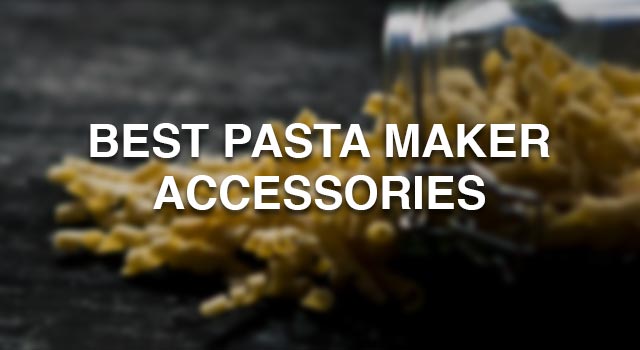 Once you have got yourself the best pasta maker machine that suits your liking, it is time to start looking for the best pasta maker accessories. The pasta maker has taken the use of the rolling-pin away, and there are a few pasta accessories that can make making pasta even easier and even more fun.
You can do a lot of amazing things with just your pasta maker. With so many kitchen gadgets and utensils in every store, and it is only obvious that there are also a bunch of kitchen gadgets that are the perfect pasta maker accessories. Pasta makers accessories such as pasta cutters and ravioli stamps will make it easier for you to achieve certain shapes and types of pasta. Pasta drying racks are handy utensils that will make help your fresh pasta from sticking together. See the full list of pasta maker accessoires below.
The best pasta drying rack
| | | |
| --- | --- | --- |
| | The Norpro Ravioli Press is perfect if you want to make ravioli in bulk quickly. The classic square shape will fit with almost every recipe. | Buy Now |
If you have a good quality pasta maker machine, you will have both a pasta roller attachment and a spaghetti or fettuccine attachment. Let's say that you have just made your own homemade spaghetti, and you want to hang them somewhere to dry. You could hang them over the back of a chair or you can get something that is crafted just for hanging pasta on it.
Pasta drying racks can definitely come in handy when you have made any type of long pasta, such as spaghetti or fettuccine. This rack will let you dry up to 10-square feet of pasta, and let me that you this: that is more than enough for most cooks. Using the drying rack will prevent the pasta from sticking together during the drying process. Sounds like a pretty nice accessory, doesn't it?
The Marcato Tacapasta Drying Rack (Amazon) is definitely the best drying rack out there for you to dry your pasta on. It has a beautiful design and is made of sturdy materials such as polycarbonate and chrome plated steel. With Marcato being the market leader on the pasta maker market, this is definitely a must have if you make pasta on a regular basis. The three years of warranty that comes with the drying rack is a great addition as well.
It also comes with a pasta wand, which can be used to easily move your pasta from the pasta maker to the pasta drying rack. Sounds a bit silly, but it works like magic!
Compared to other drying racks, the reason that I recommend this specific one is because it is very easy to store. Unlike many bulky pasta dryers which are hard to store because of their size, this is not the case with the Marcato Tacapasta. A The Tacapasta can be easily folded together and stored away, and it is put folded out just as easily whenever you need it. The Tacapasta has sixteen 8″ arms that you can use to dry your strings of pasta on. Want to read more about pasta drying racks, feel free to read my pasta drying rack buyer's guide.
"This is definitely the best pasta drying rack out there, easy to store and not any less important: it looks great. It's a big upgrade from my broomstick between two chairs!"
Best Pasta & Ravioli Cutter
| | | |
| --- | --- | --- |
| | The Norpro Ravioli Press is perfect if you want to make ravioli in bulk quickly. The classic square shape will fit with almost every recipe. | Buy Now |
A lot of people stick with spaghetti and fettuccine the first few times that they make pasta. But as you most likely know, there is a whole world with a large variety of pasta out there. With this simple and cheap tool, you can start with creating your very own ravioli. So if you are wondering about the best way to cut ravioli, this is it.
If you are looking for a sturdy pasta & ravioli cutter, I recommend the Norpro Ravioli Maker with Press (Amazon), as it simply does the job and it doesn't cost a lot. Unlike pasta maker machines, this accessory doesn't have to cost a lot to be of good quality. The pasta cutter is made from high stainless steel, so you won't be getting yourself a piece of plastic that you will regret getting yourself after unpacking it.
With this simple but effective ravioli cutter you will be able to create that fancy edge on your pasta and ravioli, the same edge that you get served in a restaurant where you get served homemade ravioli. If you want to make your pasta a little extra fancy, this is the tool you need.
That being said, this one of the accessories that can be used for a lot of other food besides pasta as well. I do not just use this cutter for cutting fancy edges on my pasta, but also to make my own cookies, yum. Yeah, pasta is not the only thing I love (sorry not sorry).
"Slice and dice, this pasta and ravioli cutter is the perfect pasta accessory for everyone with a pasta maker."
Stamp for custom ravioli shapes
| | | |
| --- | --- | --- |
| | Ravioli stamps are very simple tools that come in many shapes and sizes. Making ravioli can't get any easier. | Buy Now |
If there is one accessory that you definitely want if you are planning on making homemade ravioli for your friends and family, it is a ravioli stamp. This simple yet crafty accessory will help you use your pasta maker machine to its full extent.
There are a variety of ravioli cutters on the market, with different shapes and some made from different materials. The ravioli cutters that I recommend are from the brand Eppicotispai (on Amazon). The reason that I prefer this brand is because most of the cheaper ravioli stamps just don't do the trick. These cheaper ravioli will not seal the ravioli most of the time, something that happens a lot less with our stamps from this brand. If your ravioli isn't sealed well, the the filling can just drip out when you are cooking them. And you don't want to let your pretty ravioli go to waste.
If you are just starting out with making pasta, I recommend that you go for the round and square ravioli stamps. They will do the trick (for now, of course) and you will be able to test various fillings for your ravioli with these ravioli stamps.
"Perfect accessory for creating ravioli, and with the many shapes that are available you can let your ravioli imagination flow."
If you want some delicious inspiration for ravioli dishes and fillings, take a look at the Pinterest board dedicated to ravioli that I have made for you. As always, buen appetito!
Wooden Pasta Cutter Roller
| | | |
| --- | --- | --- |
| | The Norpro Ravioli Press is perfect if you want to make ravioli in bulk quickly. The classic square shape will fit with almost every recipe. | Buy Now |
There are multiple ways to make your own ravioli; you can do it with ravioli stamps, ravioli attachments for your pasta makers or you can do it with a specialised ravioli rolling pin. The future is beautiful, isn't it? These rolling pins are perfect if you are planning on making big batches of homemade ravioli. By simply making pasta sheets and cover the filling on these sheets you can easily and quickly make a batch of ravioli. Place another sheet of pasta dough on the other sheet that is covered by your filling of choice, and simply use your rolling pin.