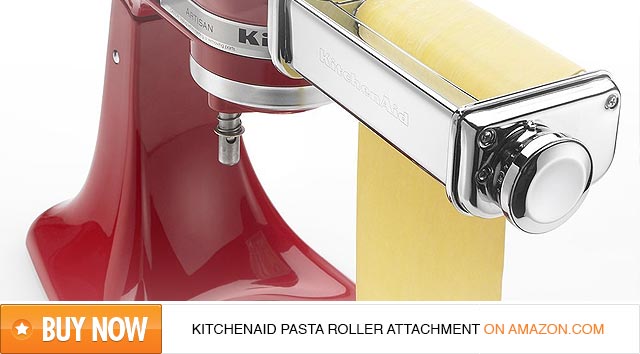 Making your own homemade pasta is something most lovers of the Italian cuisine love doing. There are various ways to create your own pasta, but in this review I will focus on a KitchenAid Pasta Attachment that you can use on your KitchenAid stand mixer. If you already own a KitchenAid mixer, buying this pasta roller attachment looks to be the perfect choice if you want to make pasta at home.
KitchenAid Pasta Maker is perfect for beginners
As a proud owner of a beautiful KitchenAid Stand Mixer and a passionate pasta lover, I just had to try the pasta roller attachment. The mixer is one of the kitchen appliances that I use almost on a daily basis, mainly because the ease of use. I am accustomed to using my manual or electric pasta roller and I was a little excited at first when I connected the pasta roller attachment onto my KitchenAid. It couldn't have been any easier!
Essentially the pasta roller is a very basic attachment for your KitchenAid, but this doesn't make it any less useful. At first I had my doubts about the pasta roller, as that is all it does: it rolls the pasta. But don't be fooled as with pasta sheets you can actually do a lot of amazing stuff, as you can make your own lasagna, different types of pasta and it will let you make your own ravioli!
With the purchase of this roller attachment, you don't get other attachments such as the spaghetti and fettuccine ones. They aren't necessary, but I have to note that making your own long homemade pasta is a lot easier with these attachments. If you are a fan of longer types of pasta as well, you should consider going for the KitchenAid Roller and Cutter Attachment Set (Amazon) with both the roller, spaghetti and fettuccine attachments. Feel free to read the full review on the KitchenAid Roller and Cutter attachment set.
For beginners this roller attachment is a very good start to make your own homemade pasta if you already own a KitchenAid mixer. The price is fair and you can immediately get started with making your own pasta, and I am glad to help you out with that with our basic pasta making tutorials.
Technical Specifications of the KitchenAid Pasta Maker
If we are looking at the pasta roller attachment from a technical point of view, the following can be noted. The fully metal construction makes the attachment feel very sturdy, both in your hand and when attached to the KitchenAid itself.
The attachment features a 6-inch roller, so with the roller itself it's possible to create pasta sheets that are six inches width. This is the standard dimension on most pasta makers for consumers, and will provide a width enough sheet to create all types of pasta.
As can be expected of any decent pasta roller, you can adjust the thickness of the rollers. Using this feature will guarantee that you get the perfect thickness that you desire.
Operating the KitchenAid pasta roller attachment was even easier than I could have imagined, as all I had to do is roll the sheet through the pasta roller. Since the KitchenAid motorizes the pasta roller attachment, you can use one hand to guide the pasta sheet through the roller and use the other hand to catch the dough sheet.
What did I like about the KitchenAid Pasta Roller
The ease of use of this attachment is just amazing, you literally just have to click it onto your KitchenAid and you are ready to go. The attachment is on par with the motorized attachment for the Marcato Atlas 150, it is just as easy to use and the quality of the pasta sheets is definitely comparable.
Materials that are used are important to me, definitely if it I am talking about something that I use very often. The KitchenAid pasta roller attachment is made from durable and sturdy metal, making sure that with proper use this will last you a very long time. The fact that the attachment looks amazing on my KitchenAid mixer is something that I shouldn't forget to mention of course!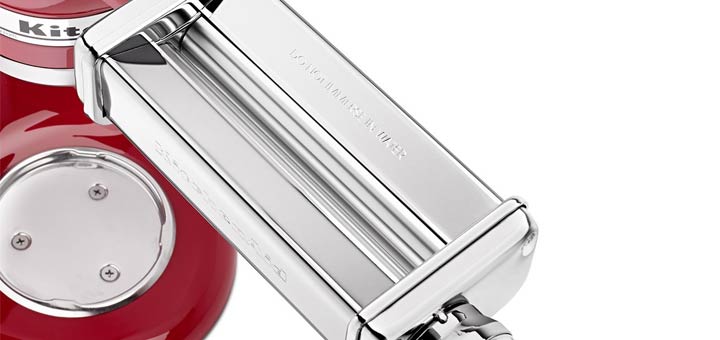 I love the fact that I can finally use both of my hands when using a pasta maker, as this is a complaint of many first-time users of manual hand crank pasta rollers. There is no learning curve for creating pasta with this KitchenAid attachment, and this is a big plus for those that want to involve their younger kids in making pasta and cooking in general.
Using the pasta roller with my 9-year old niece was both easy and fun. And the fact that she made her own pasta was something that she is really proud of!
The speed of the pasta roller when attached to the stand mixer is just right: not too fast and definitely not too slow (as this can be even more annoying than something going too fast). I had all the time that I needed to move my hands where they were needed, either while guiding the pasta into the roller and catching the pasta as it smoothly comes out.
What didn't I like about it
As with every product there are a few things that you should be wary of. The pasta roller attachment cannot be cleaned with soap and water, and it should definitely stay away from the dishwasher. This goes for all the pasta attachments for the KitchenAid, so please be warned! However, cleaning the roller is very easy as you can use the brush that you get with the attachment for free to wipe all the dough off the pasta roller attachment .
Don't clean it with water, just use the brush that you get with the roller attachment. If there happens to be a bit of dough stuck between the rollers, just use a toothpick!
While the price isn't very high for what you get, it isn't the cheapest option for making your own homemade pasta. For the longer types of pasta such as fettuccine, spaghetti and angel hair you will want the other KitchenAid attachments. That being said, you can still make fettuccine and a lot of other pasta types such as ravioli and hand-rolled penne pasta.
Review Summary of the KitchenAid Pasta Roller
The KitchenAid KPSA Stand-Mixer Pasta-Roller Attachment is a very nifty piece of equipment and I do recommend it to those who already own a KitchenAid mixer. This clever roller attachment will make rolling pasta easier than ever, and it won't limit you to only making lasagna sheets. You can order the KitchenAid roller attachment on Amazon.
Final note for this review: the KitchenAid pasta roller attachment has earned its place among all my other pasta makers, and I am sure that I am not alone in this decision. I bought the pasta roller as a bundle with the fettuccine and spaghetti cutter, and have been in love with them ever since.
This KitchenAid Pasta Attachment is a very useful and perfect for everyone who owns a KitchenAid mixer and wants to start making their own homemade pasta. Take a look at the video down below to see how easy and quick it is to use the attachment. Isn't it just perfect?