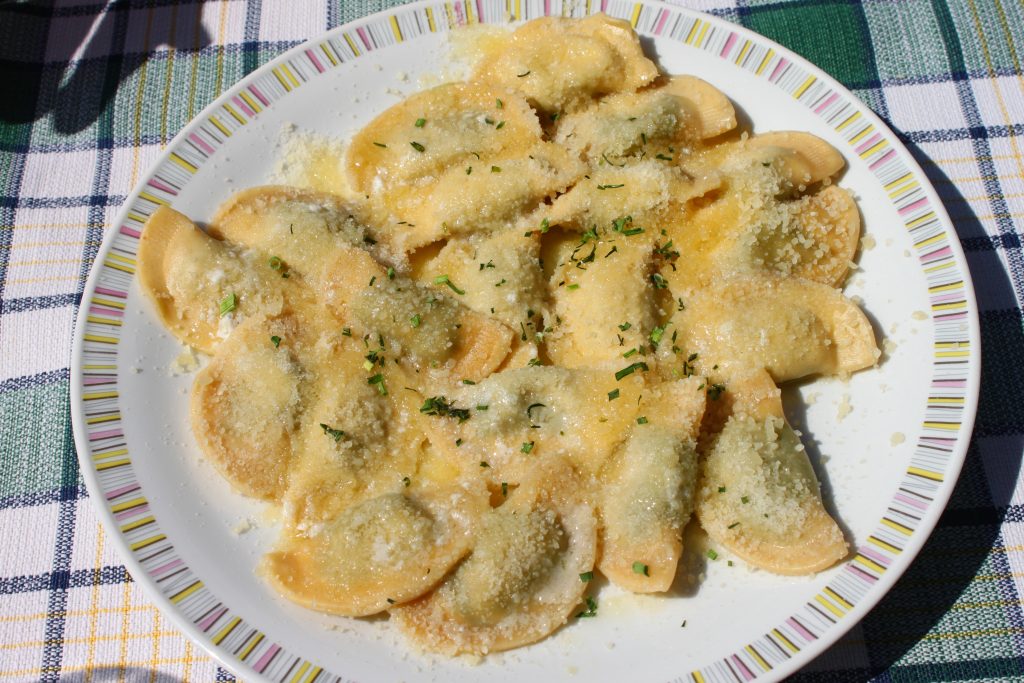 Are you looking for Fresh Mezzelune Recipe? We've got you covered!
What makes Mezzelune special is the combination of Italian and German cuisine in one dish. Mezzelune is a semi-circular stuffed pasta, typical in the region of Northern Italy and called Schlutzkrapfen in South Tyrol and other nearby German-Speaking regions. 
This stuffed pasta is filled with spinach, potato and ricotta with brown butter, topped with Grana Padano cheese. Truly a concept to make your mouth water!
Making your own fresh pasta gives you great taste and opportunity to be creative, making it incredibly better than store-bought pasta. You can serve it as a starter, a first course, or a main course. Mezzelune/Schlutzkrapfen is also superb for a lunch or a dinner.
---
Fresh Mezzelune/Schlutzkrapfen Recipe
Schlutzkrapfen is a staple in every cookbook of South Tyrol. You can bring a part of it home with this recipe, just follow the ingredients and instructions below!
Ingredients
For the Pasta
1 beaten egg
2 eggs
200g flour "00"
Flour for dusting
For the Filling
200g spinach
40g potatoes (mashed)
60g ricotta
Nutmeg
Lemon zest
Salt and pepper
For the Pasta
Grana Padano (grated)
Salt
60g butter
Instructions
Step 1: Create the dough
Pour the flour in your workspace and create a well. Crack the egg into the well and with the use of fork, slowly whisk it.
While whisking, add the flour until they are all mixed up. Now, use your hand and knead it for more or less 8 minutes until your pasta dough is elastic enough. Cover the dough with a plastic wrap and let it rest in the fridge for 30 minutes.
Step 2: Make the filling
In a hot pan, place the spinach and shrink down with a pinch of salt. Let it cool a little and drain it, then chop finely. In a bowl, add mashed potato, ricotta, nutmeg and the chopped spinach, then season with lemon zest, salt and pepper. Once you are happy with the mixture, you can create the pasta.
Step 3: Make the pasta sheet
Make the pasta sheet: Take out your dough in the fridge and cut it in two. Cover the other dough and start shaping the other one. Shape into rectangle. Prepare your pasta maker on the widest setting and roll the dough through it. Move down the setting and roll the dough again. Repeat the process until you reached the second to last setting and your pasta is about 1.5mm thick. Dust the sheet with flour, then place on a dish towel. Do the same with your second dough.
Step 4: Shaping the Mezzelune/Schlutzkrapfen
Using your round cutter, create circles out of the pasta sheet. In each circle, place a teaspoon of filling in the center, get the beaten egg and paint a little on the edges. Fold it into a half moon shape, then use a fork to crimp and seal the edges. Put the finished product on a flour-dusted tray and cover with a cloth while you continue on doing the other Mezzelune.
Step 5: Cooking
Bring salted water to boil and add your finished Mezzelune until cooked al dente. This is usually takes about 4 to 5 minutes.
In a large pan, melt the butter and toss the drained Mezzelune/Schlutzkrapfen. Cook it until the butter is starting to smell nutty and until it gets brown. Season with salt.
Serve with grated Grana Padano cheese.
Bon appetit!
---
Tips
South Tyrolean Pinot Grigio is a fantastic wine to pair with  Schlutzkrapfen.
Making a pasta brings out your inner creativity, and is created with love and passion which makes it very satisfying. Mezzelune, or Schlutzkrapfen is a fantastic, unique pasta that is guaranteed to be a hit at any dinner party.
If you have any questions about making your own pasta, or want to share your experiences and top tips, feel free to leave a comment below, I'd love to hear from you!